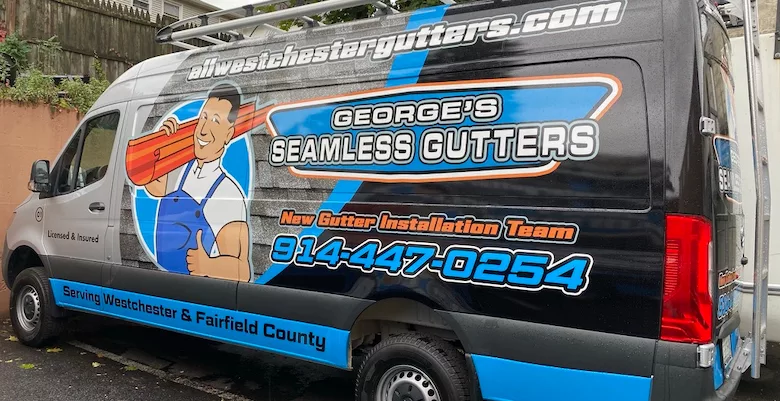 Our Fairfield County Gutter Company provides Ridgefield, CT, homeowners with the area's best and most cost-effective gutter services: gutter repair, gutter replacement, gutter guards, and gutter cleaning. We have worked with home and business owners here in Ridgefield County, CT, since our founding in 1999.
Today we are working to become Ridgefield, CT, gutter repair, gutter replacement, gutter guard installation, and gutter cleaning company of choice.
If you are looking for friendly, reliable gutter services, don't hesitate to call George's Seamless Gutters. We are a locally owned, independent gutter company. As an independent gutter company and ecologically minded small business, we are committed to providing exceptional customer service and quality gutter services throughout the beautiful town of Ridgefield, CT.
Ridgefield, CT Gutter Installer + Repair Company
We understand the weather challenges here in Ridgefield, CT; it always seems like the town gets more rain and snow than the surrounding area. With this in mind, we take in a few extra considerations when designing and installing our gutter systems. So whether you need new gutters installed, repaired, or replaced or are looking for fast, affordable gutter cleaning services, we have the expertise and experience to get the job done quickly and at an affordable price.
Our goal is to ensure that your gutters are functioning properly and are free from debris, able to protect your home. At George's Seamless Gutters, we're dedicated to exceeding our customers' expectations and providing personalized service you can count on.
"I hired George this past spring - after suffering with damage caused by our previous winters ice dams. He came right out after I called him, assessed my gutter damage and helped me select a gutter system right for my home. I recommend him to all my family and friends! Great job! Thanks George!"
"Quite possibly the best service I've ever received from a home improvement company...called them at noon, described the problem (small terrace with pooling water from roof runoff), and by 3pm, they had come out, diagnosed the problem, and installed the gutter. Fantastic service!"
Gutter Installation And Gutter Guards Fairfield County
At All Fairfield Gutters, all of our gutter projects are completed using top quality, custom-crafted gutters made locally at our gutter shop or onsite,  in the back of our mobile box trucks.
Our team of gutter & roofing experts is ready to assist you with a variety of services. Are you looking to install seamless gutters, large gutters (oversized), specialty gutters, color gutters, copper gutters, aluminum gutters, galvalume metal gutters, galvanized steel gutters, in k-style, half-round, or box gutter profile? We also specialize in radius gutters, gutter guards, gutter covers, and copper gutter guards.
Do you need to schedule a gutter cleaning or gutter repair? We've got you covered; we can also give you a contactless quote if you prefer not to meet with someone in-person.
OUR RIDGEFIELD COUNTY GUTTER GUARDS SERVICES INCLUDE:

Black Gutters and Downspouts Gutters play a role in how your home looks and functions. They play many utilitarian roles but their impact on your home's curb appeal is undeniable. When you think about replacing your gutters consider how they will impact your home's exterior appearance, if you are interested in learning more, check out this guide we wrote on the subject of CT Gutter & Downspout Trends.
At George's Seamless Gutters, we install gutters that provide lasting protection from the elements and the test of time. My independent gutter company is unlike the national big-brand gutter companies that have popped up. We provide our customers with the care and attention of a family business; while delivering expert quality gutter installation, repair and cleaning services.
Ridgefield, CT Gutter Installation + Repair
At George's Seamless Gutters – Gutters are our sole focus – this allows us to offer more gutter types to our customers and at a better price than most other gutter companies in the Fairfield County area.
"Quite possibly the best service I've ever received from a home improvement company...called them at noon, described the problem (small terrace with pooling water from roof runoff), and by 3pm, they had come out, diagnosed the problem, and installed the gutter. Fantastic service!"
All of our gutters are seamless and made to order!  That makes a big difference to the look, feel, and function of your Ridgefield, CT, CT gutter installation. We have partnered with Ridgefield, CT, homeowners on gutter installation projects of all kinds and sizes, from copper gutter installation to custom color gutter design to fully custom gutter fabrication. We also install standard 5″ Aluminum gutter seams, and if that's what you're looking for, you've come to the right place.
Ridgefield, CT Gutter Company
Since 1999, I've worked to build a gutter company that would change how Fairfield County homeowners think and feel about their gutters! Because gutters are important! They affect the health of your home and its appearance; few home systems play so many critical roles! Your home is a special place. Gutters protect the inside and outside of your home's structure from the roof down to the ground around your foundation. Gutters protect your home from water and the damage mismanaged water can cause.
If you are considering installing gutters on your Ridgefield, CT home, please do not hesitate to contact my gutter company. We will walk you through all the available gutter system options and find the best one for your home.
My team works throughout Fairfield County. You may have seen my gutter installation trucks parked in a nearby Fairfield County neighborhood. Recently my gutter team completed a copper gutter installation project in Ridgefield, a color gutter project in Monroe, and another project in Redding. While my roofing team put up several roofs right here in town, check out the blogs about our Ridgefield, CT Roof Installation Project and our Ridgefield CT Roof Replacement. Both projects turned out great but the replacement really let my team shine as they were able to install copper roof flashing and a pair of skylights that really made this project stand out.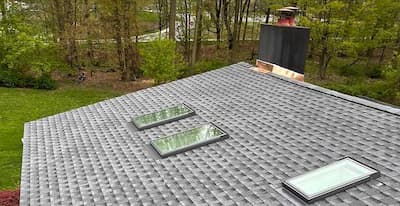 I aim to create a lasting relationship with each of my Ridgefield, CT, gutter installation customers. Most of my business comes to me by way of referral; the only thing I love building more than highly functional and fashionable gutter systems is my reputation for being a hardworking, fun-loving gutter installation expert.
At George's Seamless Gutters, honest advice and estimates are always free!
If you have any questions, please give us a call 203 258 4759
Ridgefield, CT Gutter Installation + Gutter Repair
We love working in Ridgefield, CT and just wrapped up an interesting roof replacement project that included a complete roof replacement, new skylights, chimney flashing, and vents. We wrote about this Ridgefield, CT, Roof Installation project here.