Gutter & Downspout Trends in Fairfield — 2023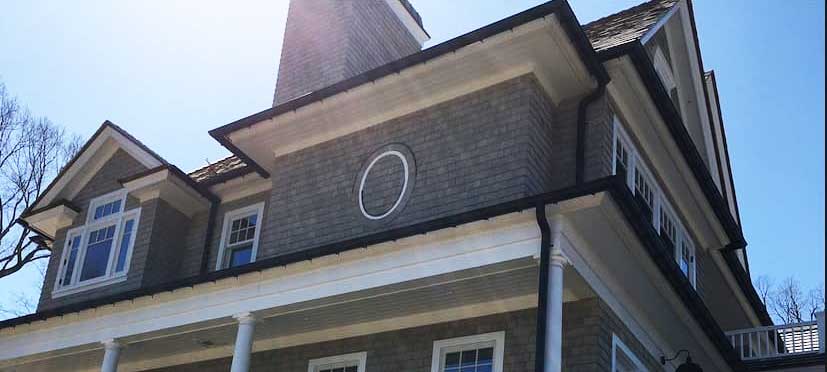 Home renovations have long been a hot topic for homeowners; each year, home interior and exterior renovation trends reveal themselves.
Interestingly, all these projects share a few common priorities, personal enjoyment chief among them, followed closely by return on the investment made.
While some homeowners will select interior projects, many more will find themselves considering an exterior renovation to enhance their homes' curb appeal and value. In particular, roofing, siding, and gutter installations top many homeowners' lists in Fairfield County and beyond.
In this blog post, we'll explore the importance of exterior home renovations and how they can transform your home's appearance and increase its overall value.
We'll take a closer look at popular roofing, siding, and gutter options, as well as the benefits of investing in these practical renovation projects. Whether you're planning to sell your home or want to upgrade its look and functionality, our guide to exterior renovations will help you make informed decisions and create a home you'll love coming home to.
New Gutters Change the Look of a Home
While new gutters may not feel like the most thrilling aspect of exterior home improvement, installing new gutters can significantly impact the appearance of your home.
Enhance your home's curb appeal and boost its practical functionality by opting for a more visually interesting gutter and downspout system such as color gutters, copper gutters,  galvalume metal gutters, or galvanized steel gutters; you'll be adding a bit of pop for the eye and when you select a profile that works to accent your homes design like a k-style, often compared to crown molding or a half-round profile which is less common your system is sure to draw attention.
New gutters in a stylish color or profile will elevate the look of your home's exterior and make a lasting impression on all who see it.
While new gutters may not feel like the most thrilling aspect of home improvement, installing new gutters can significantly impact the appearance of your home.
Enhance your home's curb appeal by opting for attractive gutter options such as black gutters, copper, galvalume, or steel gutters in a half-round profile. New gutters in a stylish color or design can elevate the look of your home's exterior and make a lasting impression on all who see it.
Properly installed new gutters can greatly enhance both the style and value of your home, particularly when you're looking to sell it. While basic aluminum gutters are typically viewed as essential, more unique options like copper, galvalume, or painted aluminum gutters can leave a lasting impression on potential buyers. These stylish gutter choices can help set your home apart and make it more appealing to those who are in the market for a new residence.
1. Match your house's color scheme
As we move into 2023, we are watching several trends take shape.
"The farmhouse trend is driving more of the preference of homeowners choosing white and light colors." The most popular choice identified by the Alside survey would be off-white/cream (20%) followed by white (14%).
When choosing a gutter color for your home, be it a modern farmhouse or classic colonial, the rules and design best practices remain the same; it's best to go with neutral or earthy tones that complement the home's surroundings. Some popular options include:
Matte black gutters: Black Gutters deliver a modern and sophisticated look that complements the rustic charm of a modern farmhouse and accents the picturesque charm of a well-appointed colonial.
Dark brown or bronze gutters: These colors give a natural and warm look to any home and are a classic choice.
Dark gray gutters: Dark gray gutters can be achieved in several ways of course, you can install Galvanized steel gutters, or you can have aluminum gutters painted; both options provide a subtle and clean look that goes well with the modern elements of a farmhouse.
Copper Gutters: For those looking to add a touch of luxury to their home, copper gutters are a great option. They develop a natural patina over time, giving them a unique and rustic look that complements homes of white, off-white or cream.
Ultimately, the best color and material for your gutters will depend on your home's color scheme and style.
2. Keep your house safe and dry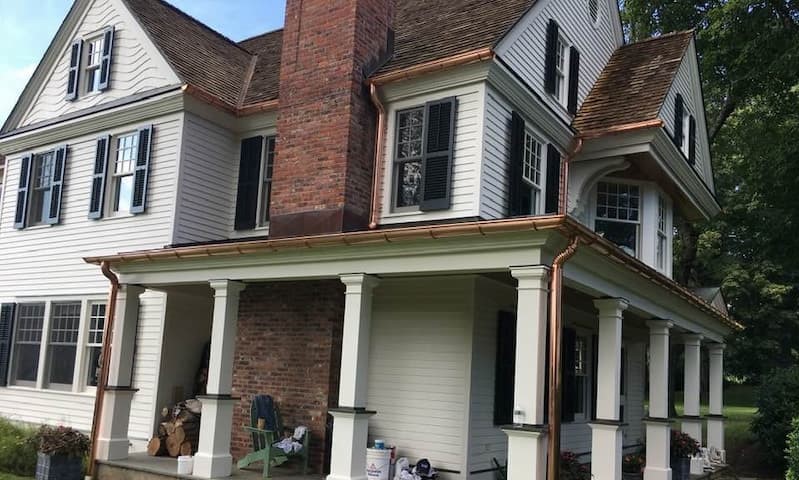 It's crucial to have well-functioning gutters on your home to avoid damage to your roof, soffits, facia, and siding and even your home's foundation during rainy weather.
With a properly designed gutter system, rainwater can be directed down and away from your house, keeping it safe and dry.
At George's Seamless Gutters, we install gutter guards and screens to prevent clogs and eliminate the need for frequent gutter and downspout cleaning on all the gutter styles we install.
Additionally, all of our gutters are seamless, ensuring you won't have to worry about leaks. Even if you are not in Fairfield County, we urge you to find a skilled gutter company that only installs seamless gutters; there is no reason to accept seamed gutters.
3. Complement your existing architecture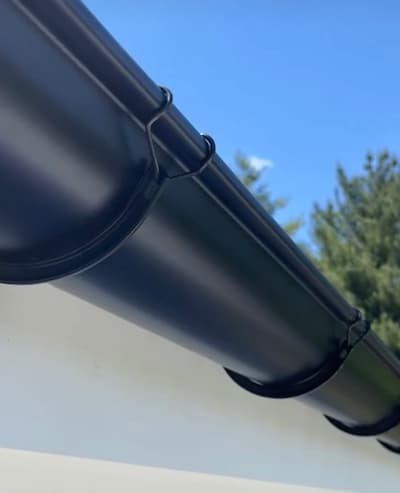 When it comes to homes in Fairfield County, there's no shortage of unique and beautiful designs that stand out from the typical cookie-cutter homes found elsewhere. However, with these unique designs can come unique challenges, such as a particular area on the roof that collects excessive water during rainfall.
At George's Seamless Gutters, we understand that every home is different and requires a customized gutter installation and maintenance approach. That's why we offer personalized solutions tailored to your home's specific needs.
If your home has an area that collects more water than others, we can install an oversized downspout to ensure that the excess water is properly directed away from your home.
Our team of experts is dedicated to ensuring that your home is protected from potential water damage caused by poor gutter function. We take the time to evaluate your home's specific needs and work closely with you to determine the best course of action to ensure your gutter system works efficiently and effectively.
4. Consider changing the material you use
At George's Seamless Gutters, we understand the importance of choosing the right gutter material for your home. While aluminum is the most commonly used material for gutters, we try and help homeowners explore other gutter material options open to them. The gutter material market is broad, and homeowners should explore their options, especially when looking to a new gutter system to help add style to their home.
One popular and timeless option is copper gutters, which have become increasingly popular recently. Copper gutters add charm and glamour to your home and are extremely durable and long-lasting.
While those looking for a more modern look should explore galvalume gutters. These gutters are made from a combination of aluminum, zinc, and silicone, making them highly durable, resistant to rust and corrosion, and perfect for contemporary homes.
Maybe you prefer a more traditional look? If so, we suggest half-round profiles. These gutters are available in a variety of materials and colors to match your home's exterior.
Want to make your home look modern and stately? Check out a Box-gutter profile. Less common and certainly more interesting, a box gutter is a great choice for a homeowner looking to accent a modern home with unusual angles.

If you're ready to learn more about installing new gutters on your Fairfield County home, then
contact George's Seamless Gutters
today! Our team of experts will help you choose the right style and material for your needs and provide a free estimate for installation.