Fairfield County Gutter Installation Company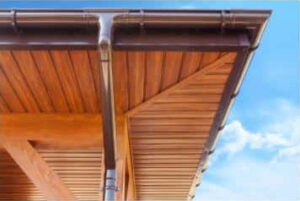 Fairfield's gutter company of choice.
We are singularly focused on your home's top-down defense against mother nature.
George's Seamless Gutters is proud to be known as Fairfield County's go-to Gutter Installation experts! My gutter company provides homeowners and contractors with the finest gutter installation, gutter cleaning, copper gutter installation, and gutter guard installation service available anywhere! 
My gutter company has been perfecting our gutter services since 1999, and we've recently expanded and are proud to now serve Fairfield County, Connecticut. I call Newtown, CT home and am proud to offer my friends, family, and neighbors our expert gutter installation services, partial roof installation, and roofing repair.
Are you looking for new Gutters or are you interested in having your gutters cleaned or repaired? Then, you've come to the right place! My gutter company will help you find the right gutter system or cleaning and gutter repair solution for your Fairfield County home or commercial property at the best price possible! 
We make all the gutters we install; this allows us more flexibility and ensures your home's gutters complement your property's aesthetic style; while providing lasting protection from the elements.
Gutter installation is a home improvement project that provides immediate returns. "One of the worst things you can do," according to appraisal expert Leslie Sellers, president of the Appraisal Institute for HGTV, "is a poor job on gutter installation." Gutters protect your home from the top down. Mismanaged water can cause costly damage to your home's roof and foundation.
GEORGE'S SEAMLESS GUTTERS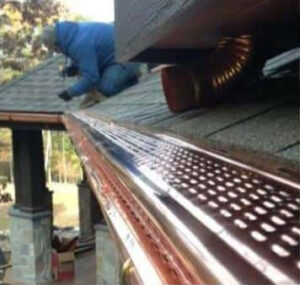 All of my gutters are seamless (continuous gutters); this makes them sturdier and able to transfer water without joints that may become warped or rusted over time. There is less of a chance of leaking with seamless gutters because there are fewer areas that can break or warp. Your gutters are only as effective as they are free-flowing. Only gutters that are clear and free of leaves and debris can operate at peak performance, taking away water from your house and protecting its foundation.
We offer gutters in many colors and materials, including aluminum gutters (available with our color gutter matching service), copper gutters, specialty/oversized gutters, Galvanized Steel Gutters, Vinyl Gutters, and gutter guards, also known as gutter screens, as well as many other gutter types.
Are you looking to have your gutters cleaned this year? Have you considered gutter guards?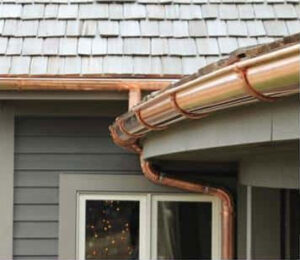 Gutter cleaning is annoying and dangerous. My team will clean your gutters, repair gutter damage and fit your gutter system with gutter guards that look as well as they function. Gutter guards will vastly decrease the need for routine gutter cleaning on your Fairfield County home.
We provide our customers with a wide range of gutter installation services and custom gutter solutions. I am confident that we will find the perfect gutter system for your Fairfield County home, commercial property or construction project. My gutter team will consider every detail of your gutter installation project: from the gutter systems style, size, and functionality to the project's unique needs and challenges.
I look forward to hearing from you!