Half-Round Copper Gutters and Downspouts Fairfield CT
Half-round Copper gutters are elegant, timeless, and popular in Fairfield County, Connecticut.
At George's Seamless Gutters, we specialize in installing exquisite half-round gutters crafted from High-quality copper 16 oz.. These elegant gutter systems offer property owners a stunning and durable solution combining timeless beauty and practical functionality.
Copper half-round gutters and downspouts not only enhance the visual appeal of any structure but also provide several practical benefits. Their smooth, curved shape allows for efficient water flow, effectively channeling rainwater away from your roof and foundation. This helps to prevent water damage, basement flooding, and soil erosion, ensuring the long-term health and integrity of your property.
Our team of expert Fairfield County gutter installers is experienced in designing, fabricating, and installing copper half-round gutters. Known for our meticulous attention to detail and unparalleled customer service, our team is second to none. We understand the unique characteristics of copper and will review all the opportunities presented to add a distinctive charm to your home. Our craftsmanship ensures that your copper gutters are seamlessly installed, providing a flawless finish that complements the architectural style of your property.
Fairfield CT Half-Round Copper Gutter Installer
Half-Round Copper Gutter Design, Fabrication, and Installation.
Half-round gutters offer numerous advantages, with their aesthetic appeal being just one of their standout features.
One of the key reasons why half-round gutters are highly regarded is their exceptional durability compared to K-style gutter profiles. The design of half-round gutters makes them inherently stronger, allowing them to withstand the test of time and resist common issues like rust, corrosion, and other forms of gutter failure. Their longevity ensures that you can enjoy their benefits for years to come.
An aspect of half-round gutters that I particularly appreciate is their ability to facilitate increased water flow. The smooth, rounded shape of these gutters enables water to move more efficiently through the system. This reduces the likelihood of clogs, backups, and overflow, effectively mitigating potential water damage to your property.
In addition to their durability and superior water flow, half-round gutters also offer other practical benefits. Their design makes them easier to clean, as debris is less likely to accumulate in the smooth channels. Moreover, their timeless appearance adds a touch of elegance to any structure, enhancing its overall aesthetic appeal.
Whether you prioritize longevity, efficient water flow, or their timeless good looks, their durability, resistance to common gutter issues, and improved water management make them an excellent choice for homeowners seeking functionality and beauty.
Choosing Copper Half-Round vs. Copper K-Style Gutters for your Fairfield County Home or Property
Copper gutters offer timeless beauty and exceptional durability, making them a popular choice for homeowners seeking both functionality and elegance.
When deciding between half-round and K-style gutter profiles for your Fairfield County copper gutter installation, there are essential factors to consider.
Copper half-round gutters exude a classic and sophisticated charm and are particularly well-suited for homes with a traditional style. Half-round copper gutters look both modern and vintage complementing both architectural styles. With their signature rounded shape, half-round gutters add an undeniably unique aesthetic appeal to the homes they adorn.
While copper gutters in the more popular K-style profile offer a more contemporary and streamlined appearance, accented by two flat sides resembling the letter "K" from the side, K-Style gutters blend seamlessly with modern and newer homes.
In summary, choosing between K-style and half-round gutters mainly depends on individual preferences and the specific requirements of your home. Each type of gutter has its own benefits and drawbacks, and at the end of things, the right gutter profile for your home will come down to several factors, chief among them your personal style.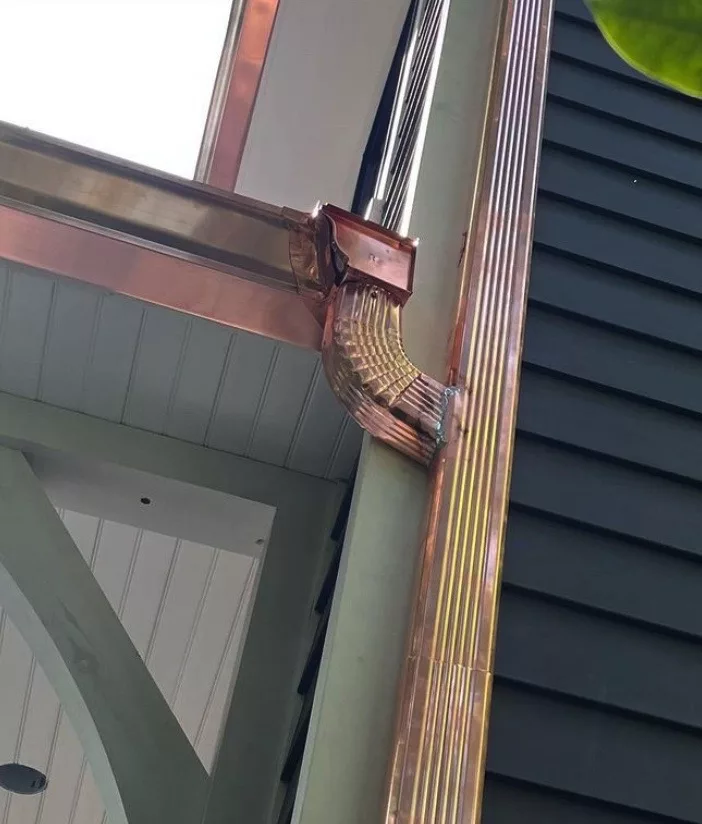 Half Round Gutters Frequently Asked Questions
Can copper half round gutters be seamless?
Yes.
At George's Seamless Gutters, all the gutters we fabricate are seamless, and our copper half-round gutters are no exception.
The only exception is a radius gutter section of copper half-round gutter systems because radius gutter sections are made from jointed, welded sections of gutter material.
Can you put leaf guards on half round copper gutters?
Yes.
After we install copper half-round gutters we commonly outfit them with copper gutter guards. Today every gutter system we install can be outfitted with a leaf guard protection system.