Standing Seam Metal Roofing Installation Fairfield County
Over the past few years, metal roofing has dramatically increased in popularity among residential and commercial property owners in Fairfield, Connecticut, thanks to its smart looks, durability, and performance. Standing seam metal roofing systems are constructed from durable materials such as aluminum, copper, and galvanized steel, making them as strong as they are good-looking.
The dedicated roofing installation division of George's Seamless Gutters, The Roofing Pros of Westchester, is an elite team of roofers specializing in the design, fabrication, and installation of standing metal roofing. We understand the importance of having a great-looking, durable, and long-lasting roofing system.
Our roofing company is proud to have built our reputation by taking care of each and every one of our customers as we would our own friends and family. Today we are known for our superior-quality metal roofing installation for residential and commercial properties throughout Fairfield County.
Our commitment to our customers is unwavering. On each job, we work to deliver metal roofing services of unparalleled quality, exceeding our customers' expectations.
Our skilled teams take pride in our work and ensure that every metal roofing install job we take on is executed to the highest standard.
We provide Free Metal Roof Installation Estimates for homes throughout Fairfield County.
call/text:
203 258 4759
Fairfield County Metal Roof Installer
Metal Roof Installation, Replacement, and Repair
Many homeowners are attracted to the look of metal roofing before they learn about all of its benefits; if you're looking for a roofing material that not only provides superior protection but also has a longer lifespan than asphalt, a metal roof may be a great solution for your home, also if you're looking to limit your home's waste or to insulate better…Don't hesitate to contact us for a free estimate on your new metal roof today.
A metal roof is an eco-friendly roofing option. Metal roofs are highly energy-efficient and entirely recyclable, so you can reduce your environmental impact while enjoying the benefits of a durable, great-looking roof.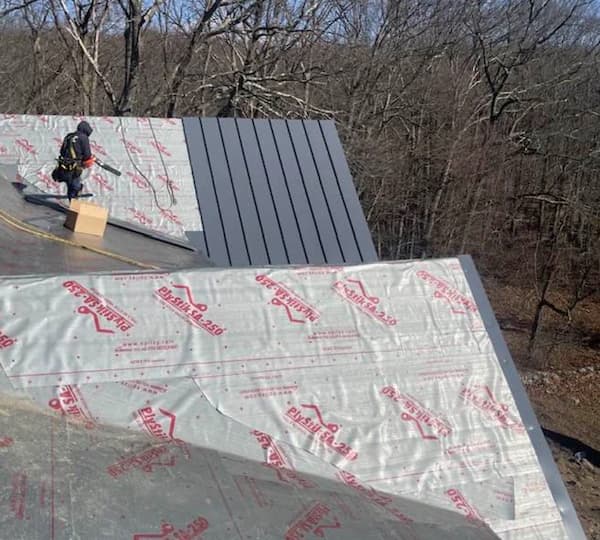 Metal Roof Installation & Metal Replacement Fairfield County, CT
Standing seam metal roofs have grown in popularity here in Fairfield County. They are now among the most popular roofing option choices selected by homeowners, builders, and commercial building owners alike due to their durability, energy efficiency, and aesthetic appeal.
If you want to add a metal roof to your property, our Roofing Installation team would be happy to help you select the right top for your project. There are a few things to consider when it comes to metal roofing:
Material: a metal roof can be made from several materials, including aluminum, steel, zinc-coated galvanized steel, and copper. Each material has its unique properties, such as resistance to corrosion, weight, and cost.
Metal Roofing Installation
Metal Roofing Installation: Installing a standing seam metal roof requires specialized tools and expertise. Choosing a reputable contractor with experience with this type of installation is important.
Home builders call on our Fairfield roofing company for our expert metal roofing installation know-how; we invite you to call us with any questions! Our expert advice is always free, and often, we can have a representative out to your house within 24-hrs to review your property and project ideas and provide a quote.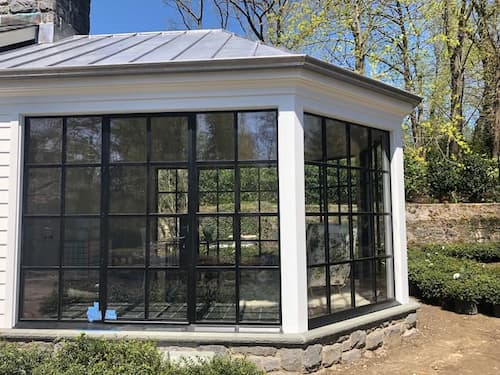 Metal Roofing Profiles: There are several profiles or shapes to choose from when installing a standing seam metal roof. The most common profiles are a vertical, snap-lock, and mechanical lock. The profile you choose will impact the installation's cost, the roof's durability, and its overall aesthetic appearance. When we come out to quote the project, let us know all of your ideas so we can provide a few cost scenarios for you. We can share pricing for several materials and profiles so you can decide which is best for your project in total.
Color: Standing seam metal roofs are available in a wide variety of colors. You'll want to choose a color that complements the style of your home or building and takes into consideration the tones and hues of the surrounding area.