Chimney Flashing Repair
Chimney flashing is a crucial component of your home's roofing system. Flashing is installed at the intersection between your chimney and roofline or roof line and any other roof angle change; flashing prevents water from penetrating the joint and seeping into the house. By creating a water-resistant barrier between the chimney and roof, flashing ensures that rainwater and other runoff do not cause damage to the home or any other structure below it.
At our company, we are experts in water management and experienced in roof repair and chimney flashing installation and repair. Our team is knowledgeable in working with all popular flashing materials and can offer comprehensive chimney flashing repair services to homeowners in Fairfield County.
We specialize in copper flashing for those looking for a more durable and long-lasting option. No matter the flashing material used on your home's chimney, it must be layered correctly to keep water out and your roof dry.
What is Roof Flashing?
Roof flashing is used in various areas of a roof where different surfaces meet. "Flashing" has one job to keep water out and help divert water away from vulnerable areas.
Various metals can be used in a flashing application, including stainless steel and aluminum; copper is the best metal, known for its longevity, durability, and timeless good looks. Most of our flashing work utilizes copper metal for these and other positive qualities.
Fairfield County Flashing Installation
Professional Flashing Installation & Replacement
The team at George's Seamless Gutters works on Fairfield county roofs every day. We understand the critical role of your roof and its related components in protecting your home from the elements.
Chimney flashing can be a problem area on many homes.
When we are called out to investigate the cause of a small roofing leak, the home's flashing is a common culprit. Chimney flashing has one job: keeping water out and the intersection between the chimney and roofline watertight. When the flashing fails, your roof and everything under it is in danger.
Flashing is worth repairing at the first sign of a breakdown. Damaged flashing opens your home to many threats, including leaks and critters.
Roof Flashing Repair & Replacement: Fairfield County, CT
At George's Seamless Gutters, we offer installation and repair services for all types of chimney flashing, including copper, lead, aluminum, or roofing cement. In Fairfield County, poorly installed or damaged flashing is often the culprit behind roof leaks. We pride ourselves on our expertise in correctly installing flashing, and we use only the highest quality materials to ensure long-lasting protection for your home.
If you require chimney flashing repair service in Fairfield County, contact our team today, and we'll be happy to assist you. We can take care of all your needs and provide peace of mind knowing your home is protected from water damage.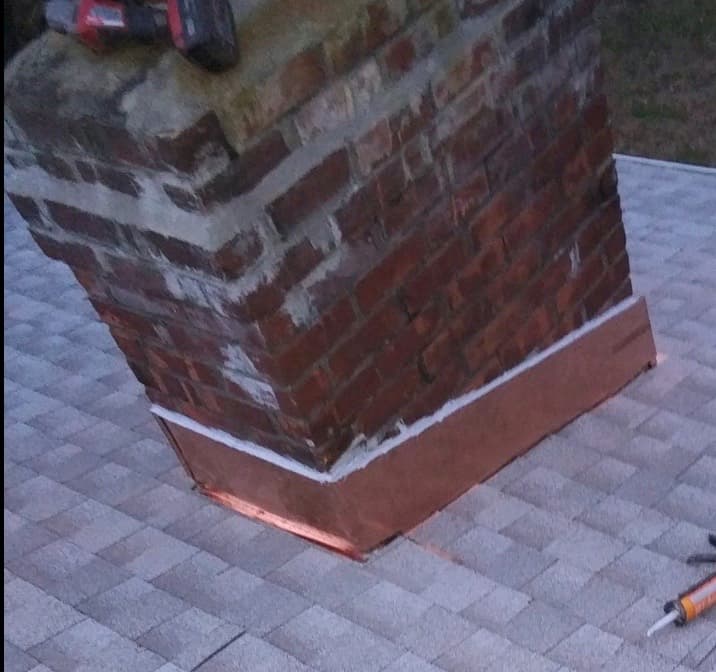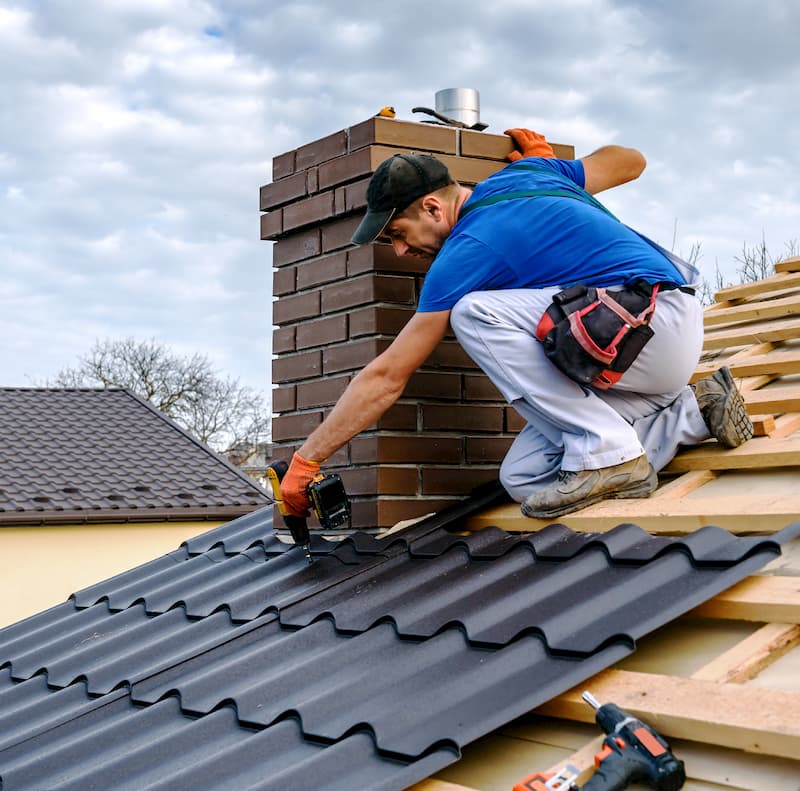 Chimney Flashing Replacement and Repair, Fairfield CT
Have cracked, damaged, or leaky flashing?
Our expert chimney & flashing technicians are just a phone call away; we offer free inspections and are happy to come out and meet you.
What causes leaks around chimneys?
Here in Fairfield, bricks and mortar both pass water and often lots of it. The problem here is usually the freezing and thawing cycle, which happens all winter long and results in damage in the house.
Is your chimney flashing in good shape?
You want to make sure your home is watertight and remains in excellent condition for years to come. You wouldn't be too pleased if you were to find water leaking in through the chimney, causing damage to the walls, ceilings, and other interior areas. Be sure to look for cracked, curled, or missing flashing around your chimney.
Not sure what to look for? We can come out and perform a free inspection.
Have a roof leak around your chimney?
DO NOT WAIT — Call a roofing contractor right away.
Roof leaks (even small ones)  need fast intervention to limit the damage. When considering how to address a flashing leak, the answer is simple; the time is now. There is no time to wait when it comes to leaks.