Metal Roofing Accents Fairfield CT
Enhance Your Home's Appearance
We provide a wide array of metal roofing accent options that will elevate the appearance of your home's exterior and enhance its curb appeal. Metal roofing accents are decorative elements that can be added to a metal roof to enhance its appearance and curb appeal. These accents can come in various shapes, sizes, and materials and are typically placed at key points on the roof, such as the ridges, valleys, and eaves. Metal roofing accents are becoming increasingly popular here in Fairfield County. A metal roofing accent will allow you to add on-trend standing seam metal roofing to your home at a fraction of the cost. Metal roofing will help build visual appeal to your roofline and increase your home's equity.
Consider a metal roofing accent strategically placed over a bay window, patio, portico, or walkway, providing attractive, visually appealing architectural details. 

Request a quote
We offer Roofing Repair & Roof Replacement!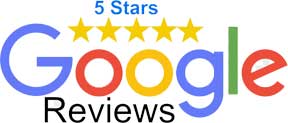 Metal Roofing Accent Ideas & Options
The metal roofing accents we design and install are all custom, intended to be fabricated and tailored to the homes they adorn; together, we will determine the best metal roofing accent style for your project goals and home design. Metal roofing accents improve the look of most home styles popular in Fairfield, including Colonials, Capes, modern homes, Victorians, Craftsman, and Farmhouses; we have added metal roofing accents to them all.
Metal roof accents are an affordable and attractive way to add depth and dimension to your home's exterior design. Fairfield County homeowners use several popular metal roofing accent projects to enhance their homes' aesthetics.
Porches
Porticos
Bay windows
Room additions
Metal dormers
Metal gables
Our team of experts is here to help you choose the best metal roofing accent for your home and provide professional installation services to ensure your roof looks great and performs flawlessly.
Roof Accents With Metal
Our metal roof accent options are custom-made, each tailored to your personal design and aesthetic preference.
Our team of specialists will help you identify the right style, location, and design for your home's metal roof accent project, guaranteeing that your roof achieves the exact look you want upon project completion.
We offer various metal roofing options for enhancing your roof's aesthetics. Here are some of the most popular metals used for roof accents in our area: Copper, Zinc coated steel, Corrugated, Aluminum, and Galvalume steel, all the same metals we install gutters in.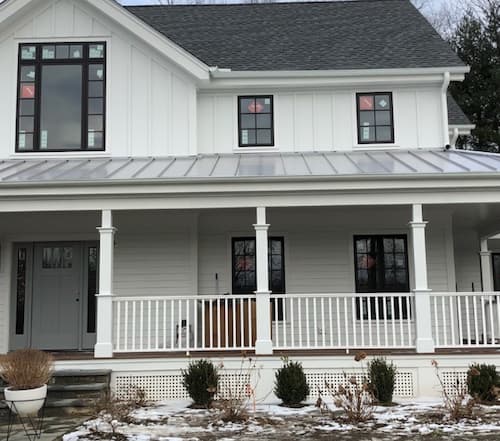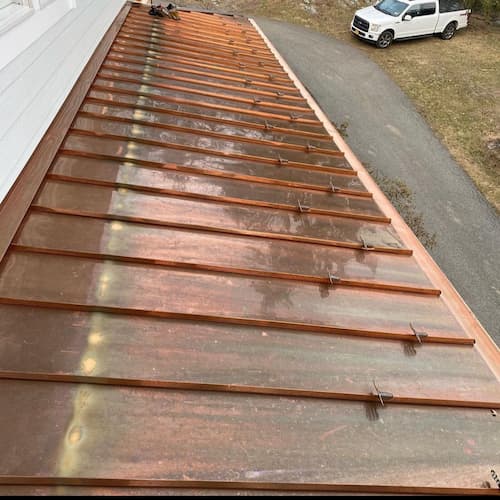 Metal Roofing Over Porches & Patios
Patios and porches often have angled roofs that are visible from the ground, providing the perfect opportunity to add some handsome detail to these lower, more visible roofs. From textures to colors and finishes that make a statement, metal roofing accents over porches and patios are popular for a reason.
With our fully custom metal roofing fabrication ability open to you the options are limitless. Together, we can design and install the perfect accent roof to complement your home's style and create a stunning focal point you'll enjoy fo years to come.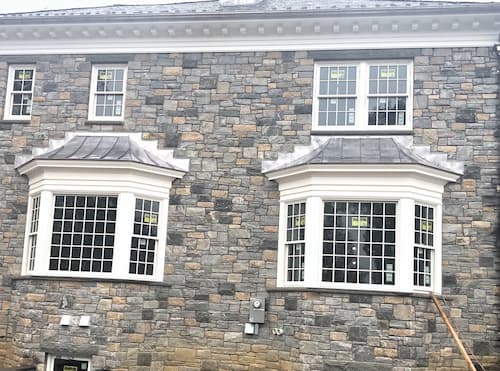 Roof Accents for Windows & Bay Windows
Adding metal roofing or other metal accents over a window or set of windows is one surefire way to bring attention and some drama to your home's exterior. Commonly used to accentuate bay windows and fortify the appearance of dormers, accent roofing over windows is not a new concept or a passing trend.
Metal roofing over windows looks great and serves several practical functions,  especially when you select a distinctive color or finish. Whether you prefer the bold look of copper or the natural charm of Weathering Steel, your windows will take on a handsome, stately look that will add visual interest to your home's exterior over time.
Metal Roofing Entryways, Porticos and New Additions
Transform your home's entryways, porticos, or roof—new addition with great-looking, durable stand seam metal roofing. A metal roof accent or section will add warmth and an inviting and visually appealing detail to your home's doorways, walkways, four-seasons room, or other addition.
An accent metal roof will create a warm, welcoming focal point for your home and allow you to incorporate coordinating or complementary colors and finishes to frame or accent the rest of your home.