Half-Round Gutter Installation Fairfield CT
Half-round gutters are elegant, timeless, and popular in Fairfield County, Connecticut.
Half-round gutters offer property owners a great-looking gutter system with several practical benefits that make them a wise choice for many structures, including residential homes; half-round gutters provide easy access for fast and effective gutter cleaning and come in a wide range of material options.
At George's Seamless Gutters, we design and install half-round gutters in galvanized steel, zinc-coated steel (Galvalume), pre-painted aluminum, copper,  and lead-coated copper. Half-round gutters offer classic style and long-lasting durability.
Our Fairfield County Gutter company specializes in designing, fabricating, and installing half-round rain gutters that give a unique and classic appearance to the homes they adorn. Perfect for home styles popular here in Fairfield County, half-round gutters look just as their name implies, like pipes cut long ways down the center and come in various materials, all in seamless styles. We also specialize in half-round radius gutter fabrication, so there is no need to worry if your roof features a round portico or porch.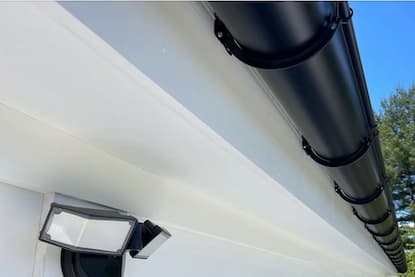 Fairfield CT Gutter Installation:
Half-Round Gutter Design, Fabrication, and Installation.
Half-Round Gutter Material Options
We make Half-Round Gutters in every material we offer, all in a seamless gutter construction, including:
Half-round gutters provide several benefits, including but not limited to their undeniable aesthetic appeal.
Haf-round gutters are, by design, more durable than K-style gutter profiles; this is why half-round gutters are known for their longevity and ability to resist rust, corrosion, and other forms of common gutter failures.
One of my top reasons for loving Half-round gutters is that they offer increased water flow: half-round gutters are smooth and being rounded this gutter profile allows water to flow more efficiently,  reducing the risk of clogs, back-ups, and overflow.
5-inch Half-Round Gutters
5-inch half-round gutters are the right size for most residential properties.
These gutters are capable of accommodating moderate to heavy rainfall from a medium-sized roof, with a capacity to move 1.2 gallons of water per foot. They are particularly suited for homes with an average-sized roofline.
When considering gutter sizes, it is important to remember their role in directing water away from home. Proper design, installation, maintenance, and cleaning are crucial to ensure the long-term effectiveness of your home's gutter system.
While half-round gutters (especially systems with gutter guards) are less likely to clog, clogs can happen and if they do, gutter clogs can significantly reduce your gutter system's ability to channel away water, leading to potential water damage and other problems.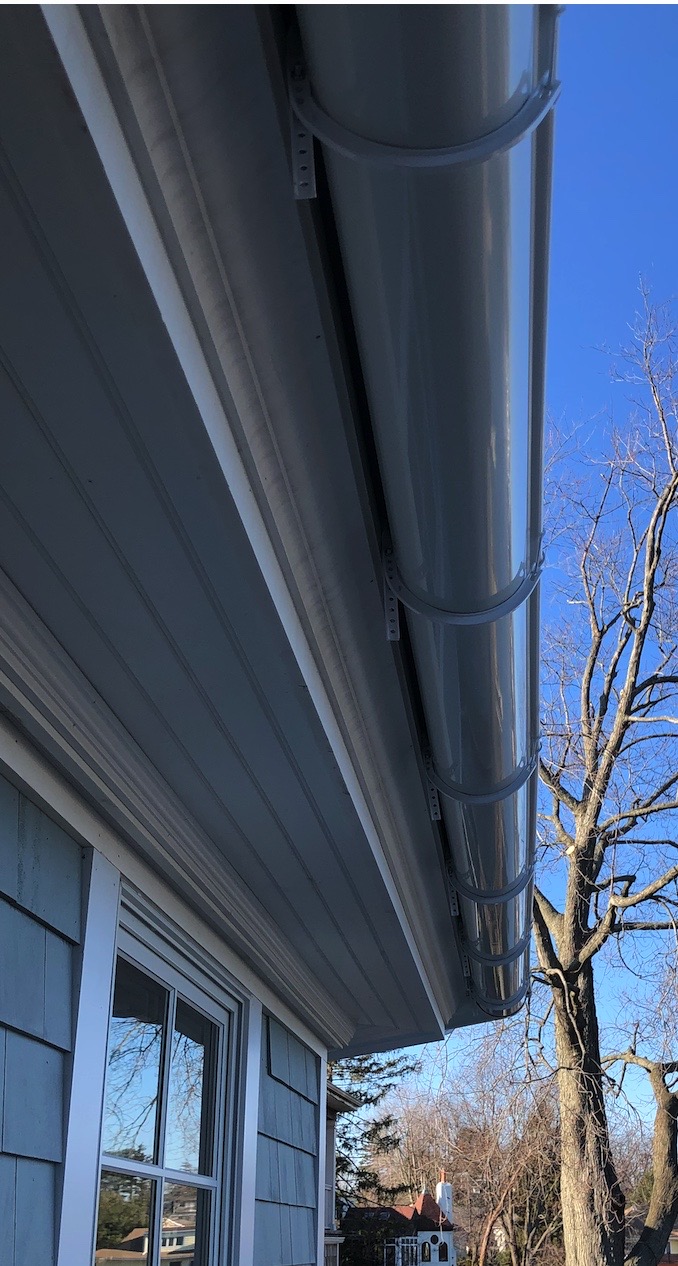 6-inch Oversized Half-Round Gutters
Larger homes have larger roofs, and like commercial properties, these larger roofs produce substantial runoff necessitating a large gutter system, also known as an oversized gutter system. Residential gutters typically come in a standard size of 5 inches, while oversized gutters range from 6 to 10 inches or wider.
To determine which gutter size is right for your home, we use 'The roof-pitch factor'  to find yours and calculate the actual surface area of your roof and the length of a common rafter.
Roof Pitch: The steeper the pitch of the roof, the more rainfall it can collect, which means more water will flow into the gutters. The roof pitch factor should be taken into consideration when determining the total square footage of drainage for each gutter.
Rainfall Intensity: The amount of rainfall that a gutter can handle depends on the intensity of the rainfall. In areas with heavy rainfall (this can vary from town to town here in Fairfield), with some towns at higher elevations and others with proximity to water, like the Hudson River or Long Island Sound, will generally see more rain in summer and snow in the winter. Not all houses need oversized gutters so it is important to take the time to figure out if yours does. Larger gutters can handle an increased volume of water, no question. But are they necessary?
Working with a professional local gutter company will ensure you get the right size gutters for your home. Our expert gutter team will start with the numbers, roof pitch, and rainfall intensity.
From there we can ensure that you get the right gutter system for your home or building. Gutters must be sized right to be equipped to handle the amount of water that is likely to flow into them during a typical rainfall. This prevents overflow, clogging, and water damage to your home.
Choosing Half-Round vs. K-Style Gutters for your Fairfield County Home or Property
K-style gutters are the most popular and are typically more affordable than half-round gutters.
Ultimately, the best type of gutter for your home will depend on your budget, the style of your home, and the amount of rainfall your area typically experiences.
Half-round gutters and K-style gutters are the two most popular types of seamless gutters available. While half-round gutters are round and curved, like half a circle, K-style gutters have two flat sides and have long been the standard for newer homes. K-Style gutters look like the letter "K" from their side profile.
Half-round gutters are pretty and are a great choice for classic-style and old houses. 
In the end, it comes down to personal preference for most homeowners. Some people like the round and smooth look of half-round gutters, while others like the flat look of K-style gutters. Most home's here in Fairfield will be well served by either gutter profile. Most often, it's the size of the gutter, not the shape, that homeowners are directed toward. Style with gutters, as with all things, is intensely personal, subjective, and in the best scenario, fun. 
In summary, choosing between K-style and half-round gutters mainly depends on individual preferences and the specific requirements of your home. Each type of gutter has its own benefits and drawbacks, and the ideal choice for you depends on various factors.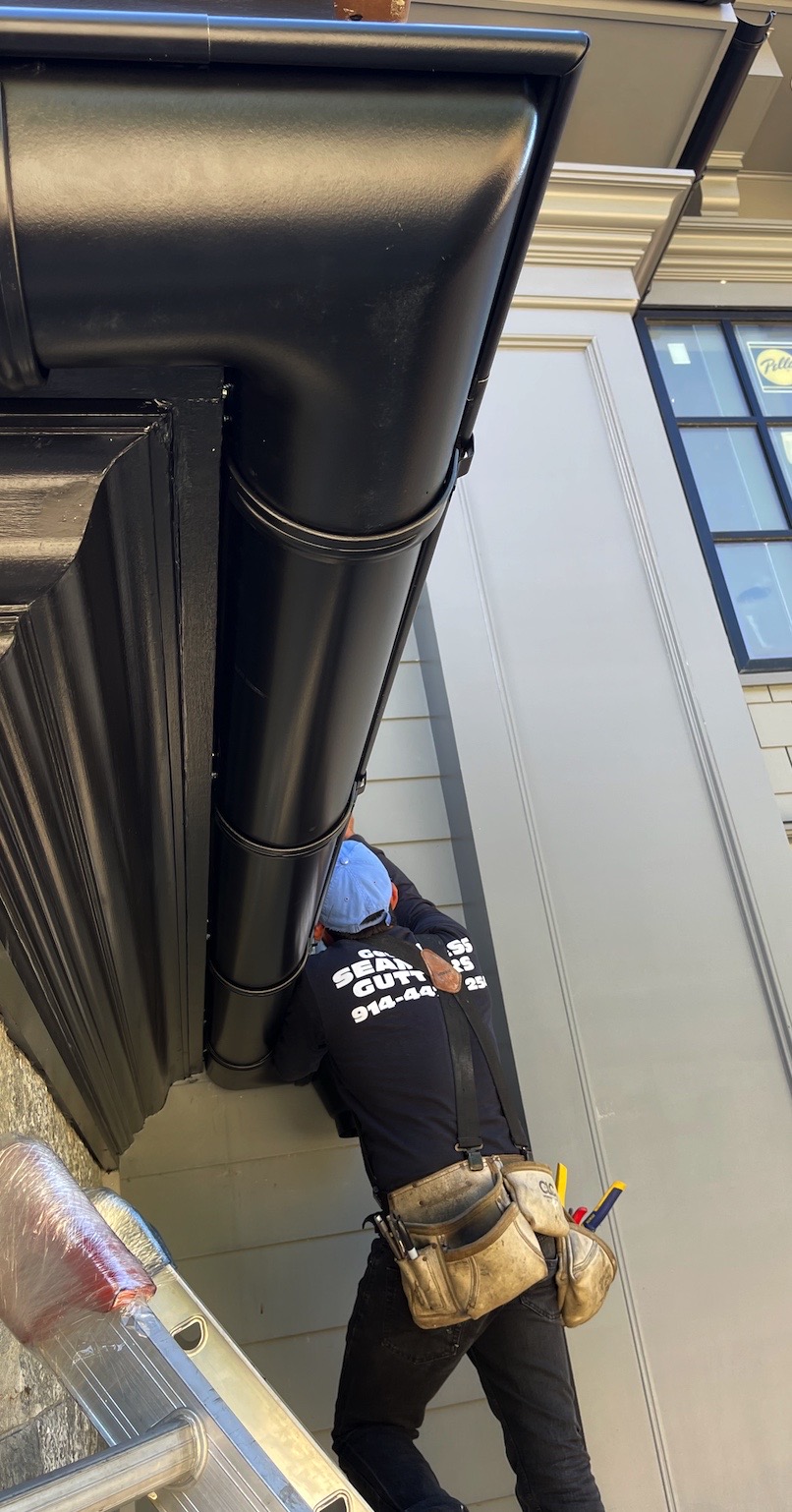 Half Round Gutters Frequently Asked Questions
Are there disadvantages to having half round gutters?
In short, yes, half-round gutters are more difficult to install than K-Style gutters because they lack a flat surface for easy hanging.
Half-round gutters necessitate customized hangers and brackets to uphold their distinctive shape. Moreover, their form can restrict their ability to manage water flow, leading some half-round gutter systems to require extra downspouts to avert overflow during intense rain.
Benefits of Half Round Gutters
Half-round gutters offer several benefits, including:
Aesthetic appeal: Half-round gutters have a classic, timeless look that can enhance the appearance of any home. They are often made from materials like copper or aluminum, which can further add to their visual appeal.
Durability: Half-round gutters are typically made from sturdy materials like copper, aluminum, or galvanized steel, which makes them resistant to rust, corrosion, and damage from the elements.
Improved water flow: Half-round gutters are curved, which can help water flow more efficiently and reduce the risk of clogging and overflowing. This is especially important in areas with heavy rainfall.
Versatility: Half-round gutters can be adapted to various roof shapes and styles, making them a versatile option for many homes.
Low maintenance: Because of their durability, half-round gutters require less maintenance than other gutter styles. They also have a smooth surface that makes them easier to clean.
Can half round gutters be seamless?
Yes.
At George's Seamless Gutters, all of the gutters we fabricate are seamless, and our half-round gutters are no exception.
Can you put leaf guards on half round gutters?
Yes.
When adding half-round gutters to your home you also have a few choices when it comes to gutter guard protection systems.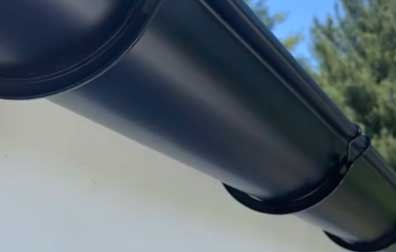 Many homeowners choose half-round gutters for their sleek,  rounded appearance and history, while others appreciate the look of their more intricate hangers; still, some focus on the ease of cleaning they provide, especially when combined with high-quality gutter guards. Think half-round gutters are suitable for your home? Let's talk!