Ridgefield, CT Roof Installation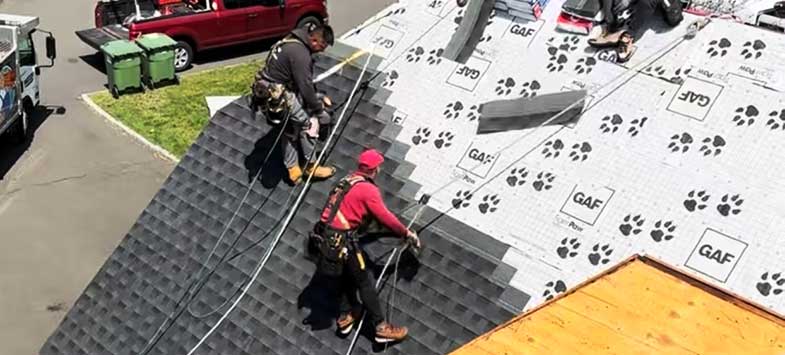 Same Town, New Roof: The Installation of a GAF HDZ Shingle Roof in Ridgefield, CT
At George's Seamless Gutters and The Roofing Pros of Westchester, we recently had the pleasure of installing a new GAF HDZ shingle roof for a customer in Ridgefield, CT. We take pride in every roofing project we undertake, and this one was no exception.
Here's a step-by-step breakdown of the process we followed to install this beautiful new roof:
Step 1: Inspection and Assessment
Before we started the installation, we conducted a thorough inspection of the existing roof to assess its condition and identify any issues that needed to be addressed. This allowed us to develop a detailed plan for the installation and ensure that the new roof would be properly installed.
Step 2: Preparation
We began by removing the old shingles and any damaged decking, making sure to dispose of all debris in a safe and responsible manner. Then, we inspected the decking to ensure that it was sound and replaced any damaged or rotten sections.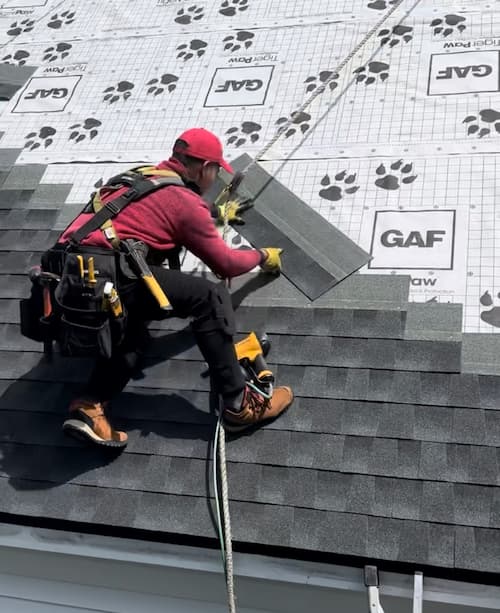 Step 3: Installation of Underlayment and Flashing
Next, we installed a new layer of underlayment to provide an extra layer of protection against moisture and leaks. We also installed new flashing around all roof penetrations, such as chimneys and vents, to ensure that these areas were properly sealed.
Step 4: Shingle Installation
With the underlayment and flashing in place, we were ready to install the new GAF HDZ shingles. We started by laying the starter shingles along the eaves and rakes of the roof, and then worked our way up to the ridge. We used a combination of nails and adhesive to ensure that the shingles were securely attached.
Step 5: Ridge Cap Installation
Once all the shingles were installed, we installed the ridge cap shingles along the ridges of the roof. These shingles provide an extra layer of protection against wind and water and give the roof a finished look.
Step 6: Final Inspection
With the installation complete, we conducted a final inspection to ensure that the roof was properly installed and met our high standards of quality and workmanship. We also made sure that the site was clean and free of any debris.
In the end, the customer was thrilled with their new GAF HDZ shingle roof, and we were proud to have played a role in enhancing the beauty and durability of their home in Ridgefield, CT. If you're looking for a professional roofing contractor in the area, don't hesitate to contact George's Seamless Gutters and The Roofing Pros of Westchester.
Are you looking to have your Ridgefield CT roof repaired or replaced? We can help and have been working on a number of houses in the town of Ridgefield should you want to hear from one of our customers!

At George's Seamless Gutters and The Roofing Pros of Westchester, we're proud to offer Ridgefield homeowners a comprehensive range of roofing and gutter services. Whether you need a simple repair or a complete roof replacement, we have the expertise and experience to get the job done right.
Here's a rundown of the services we offer in Ridgefield and throughout Fairfield:
Roof Repair & Replacement: Whether your roof has sustained damage from a storm or is simply showing signs of wear and tear, we can provide the repair or replacement services you need to keep your home safe and secure.
Emergency Roof Repair: When you have a roofing emergency, such as a leak or structural damage, you need a reliable contractor who can respond quickly and effectively. We offer emergency repair services to ensure that your home is protected from further damage.
Ridge Vents & Ventilation: Proper ventilation is essential for a healthy roof and a comfortable home. We can install ridge vents and other ventilation systems to ensure that your attic stays cool and dry.
Wood Rot Repair: If you have wood rot or other damage to the structural components of your roof, we can provide the repair services you need to restore your roof's strength and stability.
Skylight Installation: Skylights can bring natural light and ventilation to your home, while also enhancing its beauty and value. We can install skylights of all types and sizes to suit your needs and preferences.
Copper Flashing: If you need ot have your roof or chimney flashing repaired or replaced, consider copper not only dose it look great but it also protects your home better then most other materials used. It is highly resistant to water damage and can be custom-fitted to fit the unique contours of your roof, ensuring that it provides a tight seal and maximum protection against leaks. Overall, copper flashing is a smart choice for any homeowner looking to enhance the durability and value of their roofing system.
Roof Inspection: Regular roof inspections are essential for identifying potential problems before they become major issues. We offer thorough roof inspections to help you keep your roof in top condition.
Soffit and Facia repair: Soffit and fascia are essential components of your roofing system that protect your home from water damage and pests. The soffit is the material that covers the underside of your roof's overhang, while the fascia is the board that runs along the edge of your roofline. Over time, these components can become damaged from exposure to the elements or pest infestations. Soffit and fascia repair involves identifying and repairing any damage to these components, which can help to protect your home and enhance the appearance of your roofing system. It's important to work with a professional roofing contractor to ensure that your soffit and fascia repair is done properly and to the highest standards of quality and workmanship.
Gutter Installation: Properly installed and maintained gutters are essential for protecting your home from water damage. We can install and repair gutters of all types and sizes to ensure that your home is protected from water runoff.
No matter what your roofing or home improvement needs may be, George's Seamless Gutters and The Roofing Pros of Westchester is here to help. Contact us today to learn more about our services in Ridgefield, CT.