Fairfield CT – Gutter Company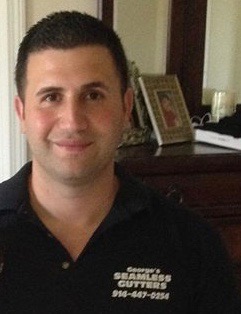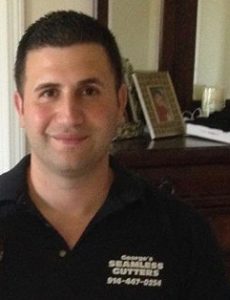 Are you looking for a trustworthy, local gutter company to partner with you and help select and install the right gutter and downspout system for your Fairfield County home or commercial property?
You've come to the right place! At George's Seamless Gutters; we install new gutters and replace aging gutters. All of our seamless gutters provide lasting protection from the elements as well as the test of time. My Fairfield County gutter company provides customers with the family feel of a small business equipped to deliver the highest quality gutter installation service found anywhere.
15 years ago, I created my gutter company to change the way Fairfield County and Westchester County homeowners think and feel about gutter companies and gutter installation.

Gutters are important! They affect the health of your home as well as it's appearance. Gutters protect your home inside and out. Gutters keep your home's structure safe; from the roof down into the ground around your foundation.Gutters are responsible for leading water away from your home and clear of the dangers mis-managed water can cause.
Your gutters work to keep your house strong and safe from the ground up. Improper gutters can allow water to pool around your foundation, jeopardizing your home's structural integrity.
In addition to our gutter expertise, we can also install, replace or repair siding, soffit, and fascia wrap as needed by the gutter system we install or repair. It is important to protect your home from water damage from every angle.
George's Seamless Gutters installs top-of-the-line seamless gutters and drainage systems designed to fit your home's unique needs. My gutter services include color gutters, specialty gutters, copper gutters, oversized gutters, downspouts, gutter guards gutter screens and more!
At George's Seamless Gutters honest advice and estimates are always free!
Have a question? Give us a call 203 258 4759
.
K-Style gutters

K-style gutters have flat backs and bottoms, the front side of the gutter normally has a decorative shape, such as a curve or ogee, that looks a bit like crown molding. Note: many styles are available.

Half-round gutters

Half-round gutters are exactly that: half-round tubes made of any given gutter material. Half-round gutters often are found on older, historic homes.

---

Gutter Materials

Residential gutters are made from various metals, including:

Aluminum/Seamless Aluminum Gutters
Galvanized Steel Gutters
Vinyl Gutters

---

Gutter Leaders

A gutter leader (more commonly known as a downspout) – is the part of the gutter system that brings the water down and away from the gutter itself. We offer downspouts in many sizes depending on the needs of the gutter system.

---

Gutter Hangers

Gutters are attached to your home/structure by a mounting system known as gutter hangers. Together we will determine the right gutter hanger or mounting system for your gutter system.

---

We also offer many custom Gutter System Elements including:

Custom Leader Elbows
Gutter Wedges
Gutter Corners/Miters
Gutter Strip/Bay Miters
Conductor Heads
End Caps
Fairfield CT – Gutter Installation Company