Roofing Installation Fairfield County
Replacing your residential roof can feel overwhelming, but it doesn't have to. Choosing the right roofing company to partner with you here in Fairfield County will make all the difference. Our roofing company will treat you like a friend and your home like our own.
George's Seamless Gutters completes roofing installations through our specialized roofing division, The Roofing Pros of Westchester, which provides comprehensive roofing installation services performed by our staff of GAF Factory Trained and Certified Roofers.
As your local roofing experts, we offer full-spectrum roofing services, which include Roof Repair, Roof Installation, Metal Roofing, Metal Roofing Accents, Copper Roofing, Chimney or Roof Flashing, and Skylight installation and repair. Trust us to be your first call when you need roofing services. We are committed to protecting your home from top to bottom against the forces of nature. With our extensive expertise and experience, no other roofing company in the area can provide the same level of coverage and protection. We offer a one-of-a-kind blend of personal support and professional know-how.
Roof Replacements & Roofing Repairs should be made as soon as possible.
When it comes to roofing repairs, there are no benefits to waiting to have your roof repaired or replaced; in both instances, you expose your home to water-born threats. A well-functioning roof is essential for maintaining the integrity of your home. Delaying roof replacement can often lead to bigger problems. If you think your roof needs repair work or it may be time for a replacement, Contact us today from our first call; you will see we take your trust, time, and customer service very seriously.
We provide Free-Roof Inspections and Estimates for homes throughout Fairfield County.
call/text:
203 258 4759
Fairfield County Roofer
Roof Installation, Replacement, and Repair: Affordable and Reliable Roofing Service
George's Seamless Gutters and our roofing division, The Roofing Pros of Westchester, offer superior roofing services for both commercial and residential properties in Fairfield County.
Known for our customer service, on-the-job efficiency, and workmanship, our roofing company provides a range of solutions, from minor roof repairs to full-roof replacements.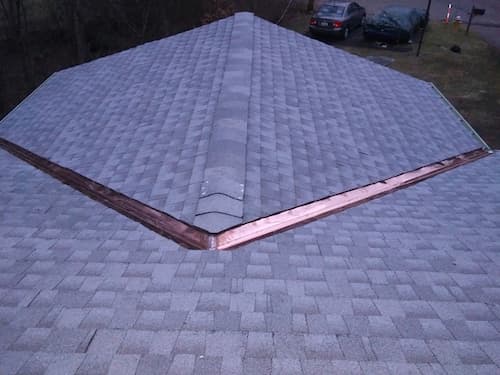 How do you know its time for a new roof?
Roof Replacement Fairfield County, CT
Our roof replacement team will ensure you get the right roof for your Fairfield County home.  We specialize in several roofing types and styles popular in our area, including asphalt roofs, flat roofs, standing seam metal roofs, and synthetic roofing.
Our team can also help with preventative services, including roof inspections, routine roof repair and maintenance.
When considering the costs of a roof replacement versus a roof repair, it is important to remember that under no circumstance do you ever want to wait too long and allow your roof to fail.
A failed roof can cause issues from the attic to the basement.
Eventually, every roof will show signs of wear and tear, no matter its material. The important thing is to have an expert who can help read the signs your roof is showing and help identify issues that indicate larger problems you don't want to ignore.
Learn The parts of a Roof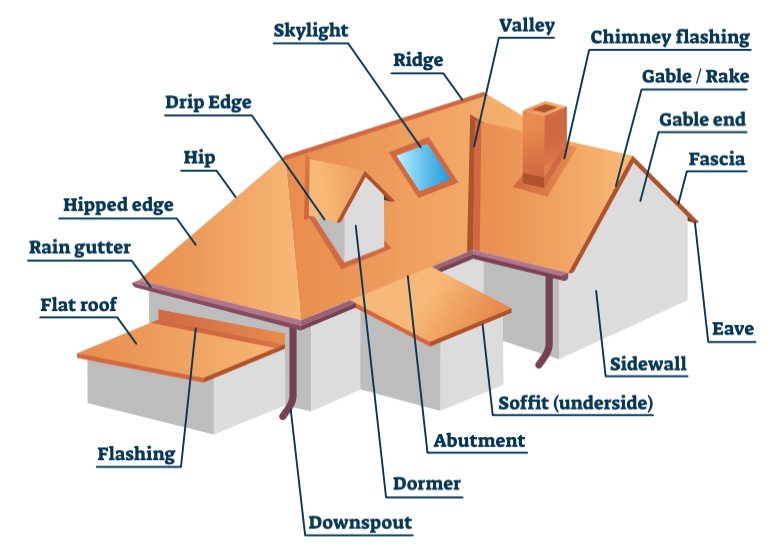 Drip Edge: An L-shaped metal strip installed along roof edges 

to direct water 

off and away 

from

 the house.
Felt/Underlayment: A sheet 

of

 asphalt-saturated material that works as a protective layer for the roof deck.
Roof Deck: The plywood or other material that the roofing material is attached to.
Sheathing (or Roof Deck): The plywood or oriented strand board surface 

to

 which roofing materials are applied.
Flashing: Pieces 

of

 metal used 

to

 seal intersections (valleys 

and

 joints) or projections (vents, chimneys) 

on

 a roof.
Leak Barrier: A fiberglass device installed 

on

 a roof where it's most susceptible 

to

 leaks.
Ridge (or Ridge Cap): A layer 

of

 shingles is installed 

on

 the roof ridge 

to

 prevent leaks.
Ventilation: Vent openings that allow interior air 

to

 exit through the roof without letting moisture 

in.
We hope to simplify the reroofing process by educating you, our customers.
From knowing your roofing material options like shingles and metal roofing to understanding its parts.
Over the years, we have found most homeowners don't know much about their roofs, let alone how best to care for them.
Even with a newer roof, there are many advantages to performing roof care and roof maintenance. That starts with understanding how your roof works through its component structure, starting with the decking, underlayment, all the way up to its flashing, and fascia.
How do you know it's time for a new roof?
Age: 

If your roof is over 20 years old, consider replacing it.

Sagging:

 If your roof is sagging or has visible dips, this is a sign of structural damage, and a new roof is likely needed.

Missing or Damaged Shingles:

 If you see missing or damaged shingles on your roof, it may be time for a replacement.

Leaks:

 If you have water leaks in your home, this may signify that your roof is no longer protecting your home and needs to be replaced.

Increased Energy Bills:

 If your energy bills have increased and you can't explain why a damaged roof may be to blame.
It's important to remember that roof repair may be an option, but if the roof is beyond repair, a new roof is the best solution to protect your home and keep it in good condition.