Half-Round Gutters: A 2023 Guide for Homeowners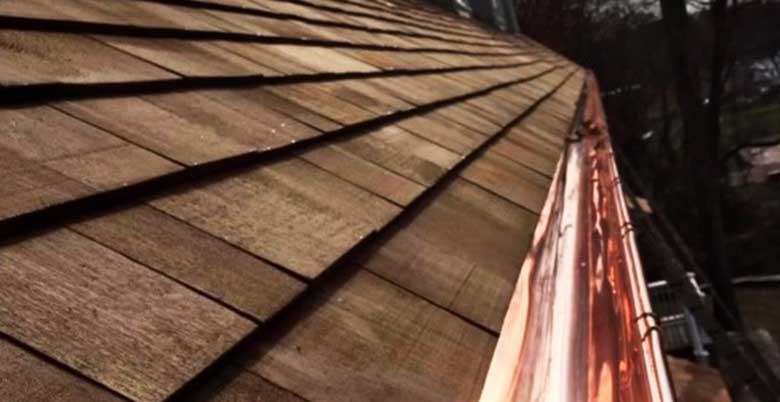 Are you considering half-round gutters for your home? This guide explores the pros and cons of half-round seamless gutters, helping you make an informed decision.
Half-round gutters, as their name suggests, are gutters shaped like half-circles. They are available in various materials, including aluminum, steel, zinc-coated galvalume, and copper. Some half-round gutters can even be seamless. Although K-style gutters are more common, many Fairfield County homeowners have opted to add half-round gutters to their homes.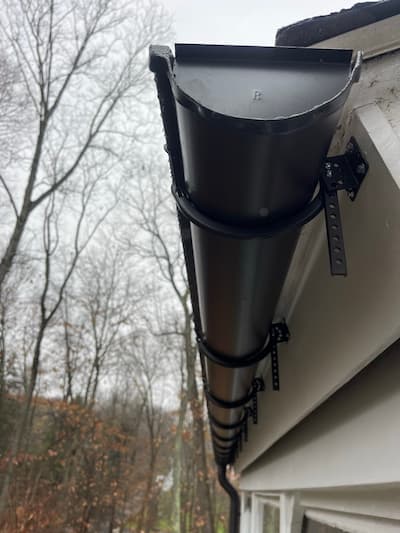 Some opt for half-round gutters because they like the rounded look, while others choose them to adhere to a specific style and aesthetic theme while others still for their ease of cleaning.
There is a case to be made for them there, especially when combined with high-quality gutter guards half-round gutters rarely get clogged and don't face the same breakdown and failures as K-Style gutters do over time.
In this guide, we have compiled all the information we could to help you determine if half-round gutters are the right choice for your Fairfield County home. We also have more information on our site.
Benefits of Half-Round Gutters
Although half-round gutters may cost more than other types of gutters, they offer several unique benefits:
Improved appearance: If your home has rounded architecture or a traditional look, half-round gutters may look better than modern K-style gutters.Copper or zinc half-round gutters add to a home's curb appeal, so to do color half-round gutters. We have recently completed a number of projects where we have added Black Half-round gutters to white houses and boy do they look great. We have also completed a number of faux copper projects where we used dark bronze to help homeowners capture many of the aesthetic benefits of copper gutters without the price tag.
Increased durability: The smooth interior of half-round gutters, without creases, reduces the risk of corrosion, leakage, and clogging.
Low maintenance: As they are less prone to corrosion and clogging, half-round gutters may require fewer repairs and maintenance. Although you will still need to clean them periodically, the smooth edges and absence of creases make it easier than with angular K-style gutters.

Half-Round vs. K-Style Gutters Rounded Gutters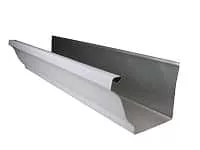 They are commonly used in homes built before the 1950s, while newer homes typically use K-style gutters. K-style gutters were designed specifically for contemporary homes, with a flat side that attaches directly to the fascia boards. On the other hand, half-round gutters require professional installation and are more complicated to install.
Half-round gutters are more appropriate for older homes, while K-style gutters blend in well with contemporary architecture. If you're restoring an older home, copper half-round gutters are a more historically accurate option than aluminum K-style gutters. Some homeowners prefer the smooth, rounded look of half-round gutters, regardless of the age or design of their home's exterior.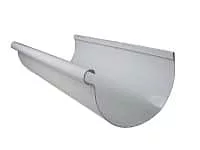 While half-round gutters may be less prone to leakage, clogging, and corrosion, they may struggle to handle heavy rain and snow. K-style gutters have a design that allows them to hold more water, making them ideal for areas with heavy precipitation. Additionally, K-style gutters are better able to resist bending, even with lightweight materials.
Is a Half-Round Gutter System Right for Your Home?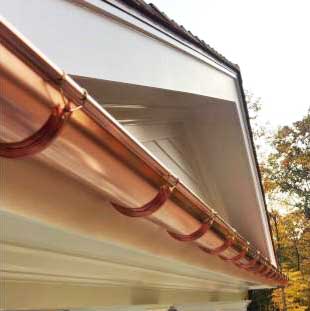 Half-round gutters can be used on both older and modern homes. Consider the following factors when deciding if this style is right for you:
Aesthetics: Half-round gutters are suitable for historic homes, with their rounded lines complementing the angular look of K-style or box gutters. Search for images of different gutter styles installed on homes similar to yours to determine your preference.
Cost: If cost is a concern, you may need to consider other options.
Anatomy of a Gutter System
A gutter system is made up of several components that work together to direct rainwater away from the foundation of your home. These components include:
Seamless Gutters: The primary component of a gutter system, gutters are the channels that run along the eaves of your roof, collecting and directing rainwater to downspouts. Gutters come in various styles, including K-style, half-round, and box.
Downspouts: Downspouts are vertical pipes that carry rainwater from the gutters to the ground or to an underground drain.
End caps and elbows: End caps are fitted at the end of the gutters to prevent water from spilling out, while elbows are used to change the direction of the downspouts.
Hangers and brackets: Hangers and brackets are used to secure the gutters to the eaves of your roof. Hangers are typically made of metal and are spaced along the length of the gutters, while brackets are mounted directly to the fascia board.
Flashing: Flashing is used to seal the joints between the roof and the gutters, preventing water from infiltrating your home's attic or walls. Flashing is most commonly used between the chimney and the roof, but flashing has other applications in gutter design and installation as well.
Gutter guards: Gutter guards are screens that sit atop the gutters, preventing leaves, twigs, and other debris from clogging the gutters. Some gutter guards are designed to keep pests like squirrels and birds from accessing the gutters, as well.
Downspout extensions: Downspout extensions are used to direct water away from your foundation and landscaping. They are typically made of flexible, corrugated plastic and can be adjusted to accommodate different lengths and angles.
The anatomy of a gutter system can vary depending on the style of gutters you choose and the specific needs of your home. However, these are the primary components that make up a typical gutter system.
Contact us today to learn more about how we can assist you in safeguarding your home's exterior.
Call us at 203-258-4759 we would be happy to help.