A Homebuyers Guide to Roofs & Gutter Systems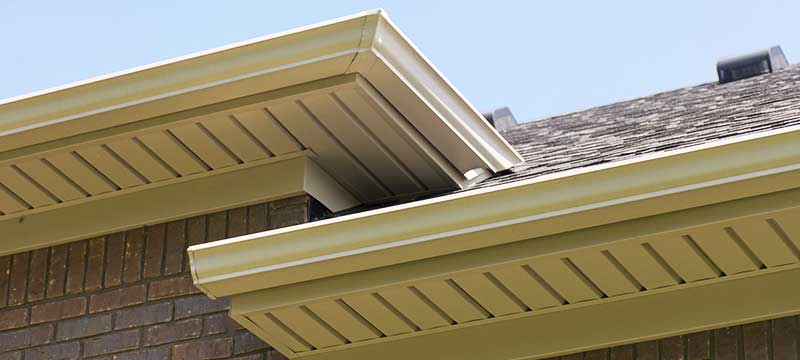 Whether you're embarking on the exciting journey of becoming a first-time homeowner or are relocating to Fairfield County, it's always helpful to take a moment and educate yourself on a home's various working systems. Among them are the roof and gutters, which in this article will take center stage.
Acting as your home's protective shield, a well-maintained roof and gutter system not only safeguards your home but also protects everything you love inside.
Join me, George Curi, Newtown, CT resident, head coach of the Blue Hawks girl's soccer team, and your go-to local roofing and gutter expert. As the owner of George's Seamless Gutters, it is my pleasure to take you through the essential aspects of a home's roof and gutter system; together, we'll delve into the components that make up these systems and explore their vital role in preserving your home's structural integrity, longevity, and overall curb appeal.
Exploring Roofing & Gutter Systems:
Materials, Parts, and Responsibilities
Let's start with the basics; roofs and gutters work together to protect your home from the elements. They prevent water leaks and structural damage and ensure energy efficiency, ventilation, insulation, and curb appeal. Gutters protect the roof, siding, and foundation from water-related risks.
Roofs and gutters come in various materials and designs. In Fairfield County, asphalt is the most popular roofing material, followed by cedar shakes, standing seam metal, slate, flat roofing (typically in smaller sections), and copper and other metals, used primarily as a roofing accent.
When it comes to gutters, most homes have standard aluminum gutters in a K-style, while others opt for copper, color-coated aluminum, black gutters, galvalume, or galvanized steel in a classic Half-round profile
The Parts of a Roof and Gutter System:
What they do, and Why they are important.
As a homebuyer, it's crucial to understand the roofing and gutter system of a house you're considering. Each component plays a vital role in protecting the home and maintaining its structural integrity. By familiarizing yourself with these key parts, you'll gain valuable insights into how they work together to safeguard the property and ensure its longevity.
My team and I emphasize the importance of understanding the different parts and functions of a roof and gutter system. This knowledge will help you make a more informed decision about the home you choose. A roof is not just a single entity—it's a system composed of interconnected parts. This system includes your gutters, which collect the water that runs off your roof and carry it safely away from your home. So, when evaluating a potential home, consider the entire roof and gutter system to ensure its effectiveness in protecting your investment.
Roof Components, what to Look for and Ask about during an Inspection: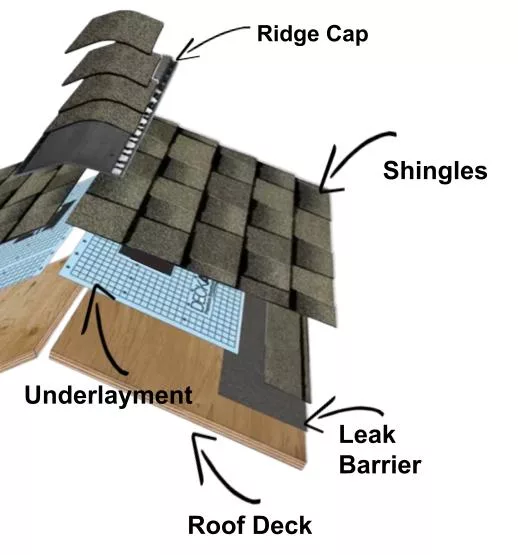 Roof Deck: This is the roof's foundation, providing structural support to the entire system.

Ask about its condition and any signs of damage or weakness.

Underlayment: The underlayment acts as a waterproof barrier beneath the roofing material.

You can ask about the type of underlayment used and its effectiveness in preventing moisture intrusion; this is a common issue in Fairfield County.

Roofing Material: Ask about the specific roofing material used and its manufacturers, such as asphalt shingles, standing seam metal roofing, flat EPDM rubber roofing or slate; your home inspector should be able to assess its age, condition, durability, and expected lifespan.
Roof Flashing: You'll want to have your home inspector, or roof inspector (some homeowners will call on a roofing team to come out and get up on the roof to inspect roof flashing closely), which prevents water penetration at vulnerable areas like chimneys, vents, and skylights. A roofer can inspect the quality of the flashing, ensure its proper installation and look for any signs of damage.
Ventilation: Proper ventilation is crucial for maintaining a healthy roof system. Ask about the ventilation methods employed, such as ridge vents, soffit vents, or attic fans, and ensure they function correctly, are properly placed, and are sized working to regulate temperature and prevent moisture buildup.
Attic moisture is a common issue in Fairfield County, and it can significantly impact indoor air quality and the health of your roof deck. Proper ventilation plays a crucial role in controlling moisture levels and preventing the growth of mold and other hazardous air pollutants in the attic.
Gutter System Components: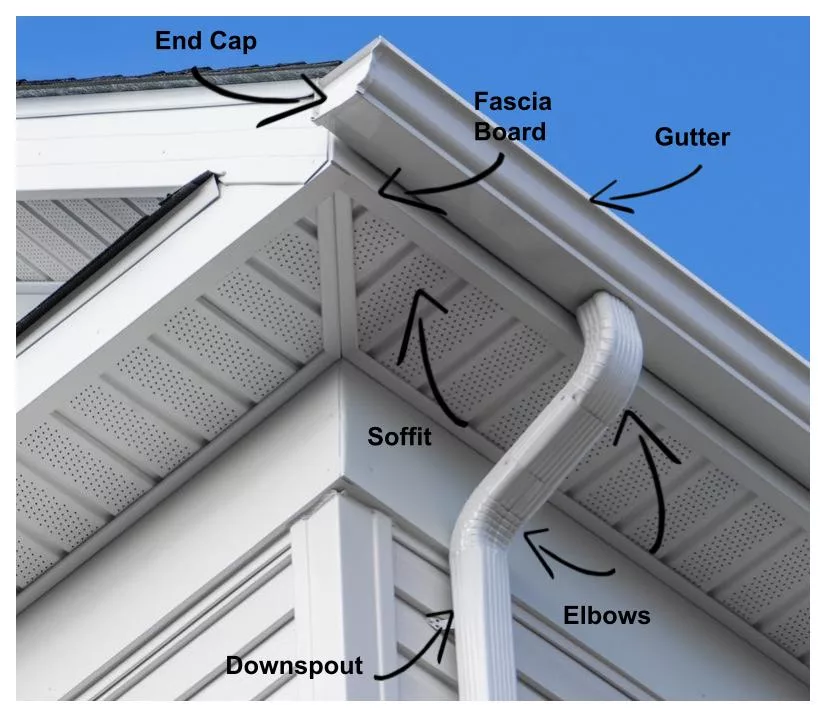 When assessing a potential home, it's important to pay attention to the condition and functionality of the roof and gutter system components. Look out for any signs of damage or inadequate maintenance that could impact their performance; keep an eye out for:
Gutters: These are the horizontal troughs attached along the roof edge that collect rainwater.
Check if they are securely attached and free from visible cracks, rust, or sagging.
Downspouts: These vertical pipes carry water from the gutters to the ground or drainage system.
Make sure they are correctly connected and not dented or clogged.
Elbows and Extensions: These angled sections and extensions help redirect water flow and ensure proper drainage.
Check if they are in place and functioning correctly, directing water away from the house's foundation.
Gutter Guards: These protective covers are designed to prevent debris from clogging the gutters and impeding water flow. Note: Gutter guards, including copper gutter guards, are also available in various colors and materials to match the gutter system, including copper gutter guards.
Check if they are installed and in good condition; they keep gutters clear from leaves, twigs, and other debris and reduce the number of gutter cleanings needed each year.
A well-maintained roof and gutter system are crucial for effectively managing rainwater and protecting a home from water damage. If you notice any signs of wear or neglect, it's important to bring these findings to the attention of your realtor, who can help you address them promptly prior to purchase or sale.
Assessing a roof and gutter system from the ground, online, or while driving by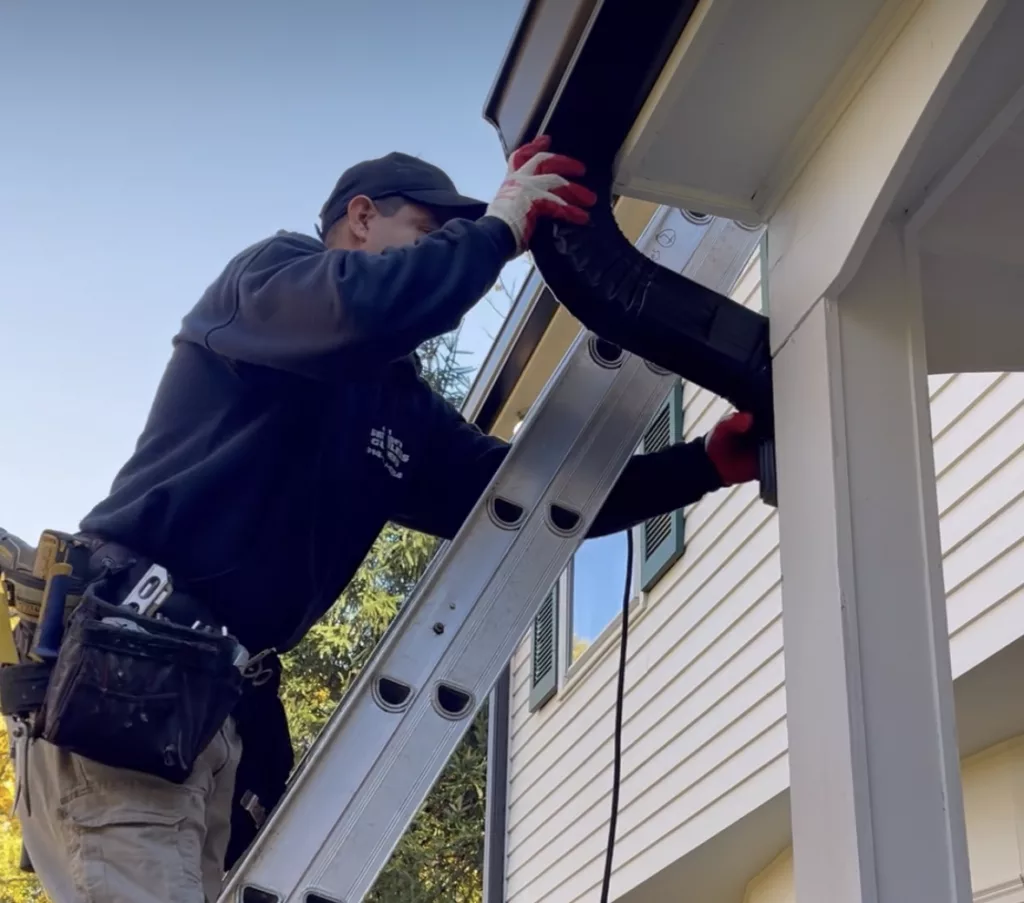 When conducting a quick drive-by or assessing a home online, there are several ways to evaluate the health of a roof and gutter system from a distance.
Start by examining the roof's condition; look for missing or damaged shingles, signs of discoloration, and any curling or buckling areas. Check the alignment of the gutters; they should be straight and securely attached without sagging.
Note any excessive vegetation or moss growth on the roof, as this could indicate moisture retention issues. Look for visible debris, such as leaves or branches, on the roof and within the gutters, as this may suggest poor maintenance and potential clogging.
Lastly, observe if there are any water stains or discoloration on the exterior walls beneath the roofline, as this could signify water penetration or inadequate drainage.
While these visual assessments provide initial insights, it's always recommended to consult a professional for a comprehensive inspection to accurately determine the roof and gutter system's condition.
We hope you found this guide informative and that you will be able to put some of the resources provided to use in your home-buying journey. If you are looking at a home in Newtown, Connecticut, or anywhere throughout Fairfield County, feel free to call on my team for service, expert advice, or a roof or seamless gutter system inspection, gutter repair, gutter cleaning, or gutter install and replacement.
Contact us today to learn more about how we can assist you in safeguarding your home's exterior.
Call us at 203-258-4759 we would be happy to help.