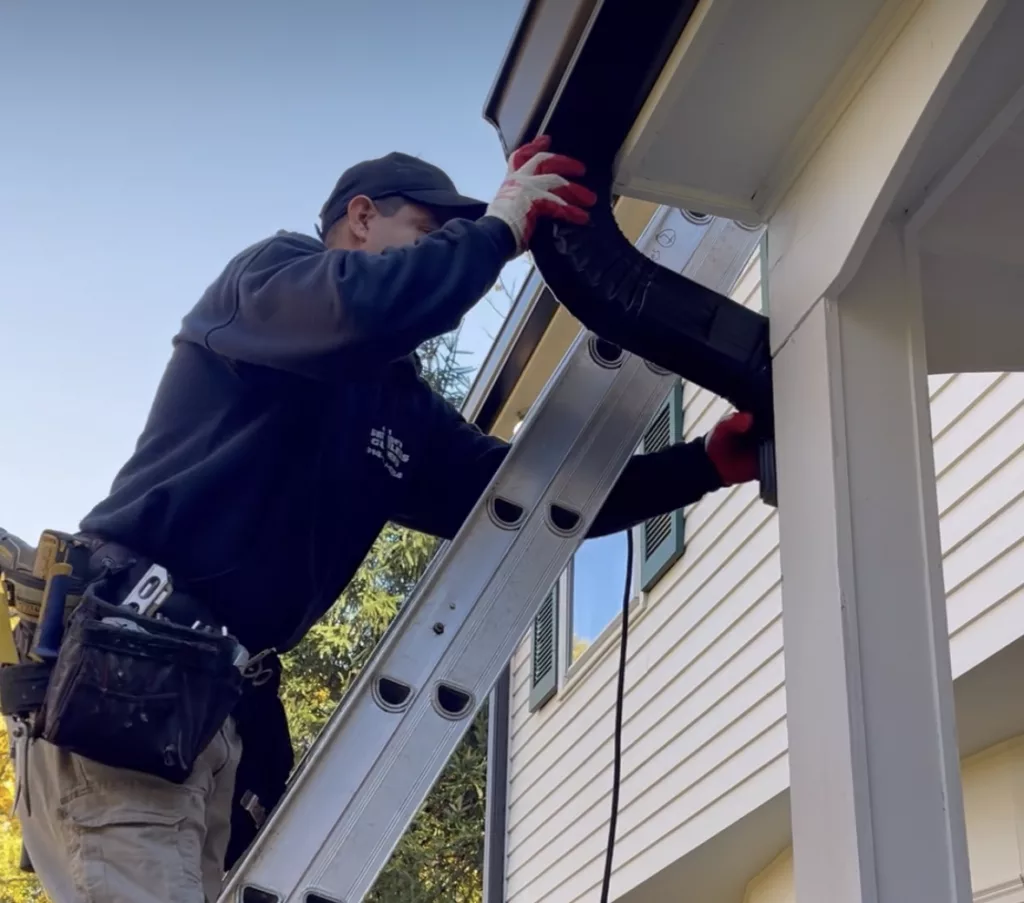 Wilton CT Gutter Installation Company – George's Seamless Gutters proudly serves the gutter cleaning, Gutter Repair, and gutter installation needs of homeowners in Wilton, Connecticut, and the surrounding area. Our independent gutter company is a locally owned, ecologically minded small business.
We work with Wilton, CT, home and commercial property owners from both 06883 and 06897.  Wilton, Connecticut, experiences a wide range of weather conditions, including harsh winters and gusty winds that sweep through the New England corridor. These weather variations can take a toll on the durability and functionality of gutter and roofing systems.
At our Wilton gutter company, we understand the challenges posed by these unique weather patterns and are here to provide you with the gutter repair and replacement you may you need to combat them.
Whether it's the freezing temperatures of winter or the powerful gusts of wind, we have come fall, my gutter company has the expertise and solutions to help protect and maintain your gutters and roofing systems through the test of time. You can rely on us to navigate through whatever weather comes your way, ensuring the integrity and longevity of your home's essential gutter and roofing components.
Being a local gutter company and Fairfield County resident means I understand these challenges and take them in stride when designing gutter systems in and around the area.
"I hired George this past spring - after suffering with damage caused by our previous winters ice dams. He came right out after I called him, assessed my gutter damage and helped me select a gutter system right for my home. I recommend him to all my family and friends! Great job! Thanks George!"
"Quite possibly the best service I've ever received from a home improvement company...called them at noon, described the problem (small terrace with pooling water from roof runoff), and by 3pm, they had come out, diagnosed the problem, and installed the gutter. Fantastic service!"
At All Fairfield Gutters, all of our gutter projects (installation and repair) are completed using top quality, custom crafted gutters made locally at our gutter shop or onsite,  in the back of our mobile box-trucks.
Look to my Wilton County gutter company for the following services:
At George's Seamless Gutters, we install gutters that provide lasting protection from the elements as well as the test of time. My gutter company provides customers with the family feel of a small business while delivering the highest quality gutter installation service found anywhere. Gutters and downspouts play a crucial role in the overall maintenance of a home or commercial property. Your gutter's primary function is to catch rainwater runoff from the roof and drain it away from the foundation of the home. Without gutters, pools of water form, yards erode and foundations degrade. Nowhere are gutters more critical than here in the Northeast where all four seasons challenge the integrity of your home in different ways. A strong and efficient gutter system is paramount to your homes long-term health.
Wilton, CT Gutter Installation + Gutter Repair
At George's Seamless Gutters – as our name implies, gutters are our sole focus – this allows us to offer more gutter types to our customers and at a better price than most other gutter companies in the Westchester County area.
bottom

"Quite possibly the best service I've ever received from a home improvement company...called them at noon, described the problem (small terrace with pooling water from roof runoff), and by 3pm, they had come out, diagnosed the problem, and installed the gutter. Fantastic service!"
All of our gutters are seamless and made to order!  That makes a big difference to the look, feel and function of your Wilton, CT, CT gutter installation. We have partnered with Wilton, CT, homeowners on gutter installation projects of all kinds and sizes, from copper gutter installation to custom color gutter design to fully custom gutter fabrication. We also install standard 5″ Aluminum gutter seams and if that's what you're looking for you've come to the right place.
Wilton, CT Gutter Company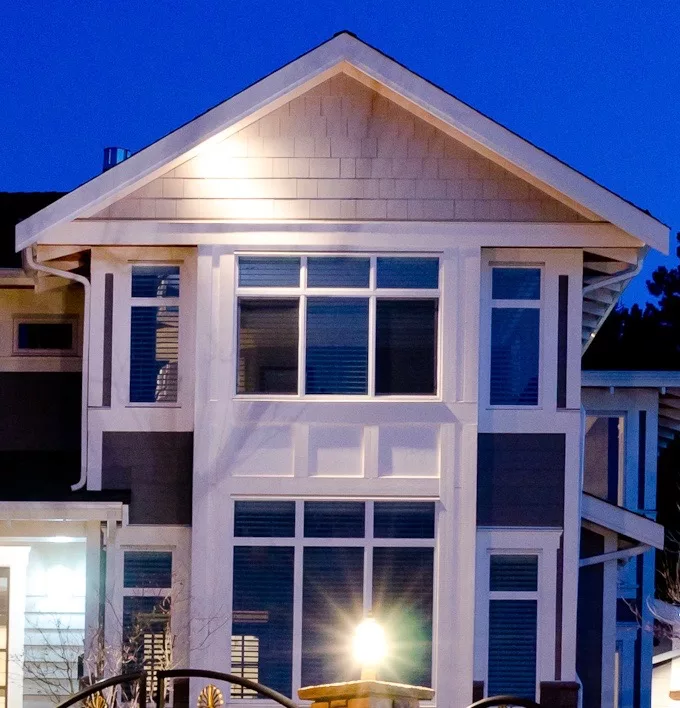 If you are considering having gutters installed on your Wilton, CT home please do not hesitate to contact my team. We will walk you through all the gutter system options available and find the best gutter system for your home. My team works throughout Fairfield you may have seen my gutter installation trucks parked in a Fairfield County neighborhood near you. Recently my gutter team completed a copper gutter installation project in Wilton, a color gutter project in Monre and another project in Redding.
At George's Seamless Gutters, our primary objective is to establish long-lasting relationships with each of our valued customers in Wilton, CT. I take great pride in the fact that a significant portion of my business comes through referrals, which speaks to the trust and satisfaction of my clients.
While my passion lies in creating highly functional and stylish gutter systems, I am equally dedicated to nurturing my reputation as a hardworking and enjoyable professional in gutter installation. Building strong connections with my customers and delivering exceptional gutter and roofing service is at my heart. When you choose George's Seamless Gutters, you can expect top-quality gutter solutions and a positive and enjoyable experience throughout the process.
At George's Seamless Gutters, honest advice and estimates are always free!
If you have any questions, please give us a call 914-447-0254
Wilton, CT Gutter Installation

+ Gutter Repair

We love working in the charming town of Wilton, CT, a treasure trove of unique facts and historical landmarks. My family and I have enjoyed hikes at Weir Farm National Historic Site, wandering through the Cannondale Historic District, and taking a step back in time at the Cannondale Railroad Station. Have you been to a community event at the Wilton Town Green? Being an architecture buff myself, I enjoy the Lambert Corner Historic District and relish the opportunity my work often presents to help preserve and revive the historic look and feel of some of the older Wilton CT homes gutters we work on, be it the addition of copper gutters or the restoration of copper roofing or standing seam metal roofing on a farmhouse revival. Showcasing the area's architectural legacy is certainly a perk!