Top-Rated Roofing Solutions from a Trusted Fairfield County, CT Roofing Company
Our Fairfield County-based roofing company offers a wide variety of roofing services through our dedicated Roofing Division, The Roofing Pros of Westchester. A GAF Certified team of Factory Trains and Certified Roofers, versed in all the popular roofing installation applications needed to ensure you get the best possible roof for your home at the best price.
From roof installation to roof repair and maintenance, we help keep Fairfield County roofs free from leaks and in top working order, and looking great.
Our Roofing Services include:
We proudly offer our friends and neighbors comprehensive roofing installation and repair services. Our reputation speaks for itself. If you are looking for an expert Fairfield County roofer for your roof replacement, repair, or roofing installation partner for new construction – look no further than my team!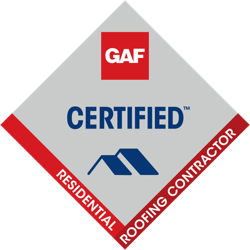 Request a quote
We offer Roofing Repair & Roof Replacement!
Roofing Repair Services
No roofing project is too big or small for our team of roofing experts to handle. Whether you're dealing with the aftermath of a fallen tree or a bad windstorm, our experienced roofing team can provide a repair plan that will quickly and effectively fix your roof.
We take pride in using only the best tools and materials to ensure that our repairs stand up to whatever Mother Nature throws your way. Our team is well-versed in all factory-recommended practices and methods, ensuring that our solutions are both effective and long-lasting.
You can count on us to provide you with reliable and professional service, no matter what roofing issue you face. With our expertise and commitment to quality, you can trust that your roof is in good hands.
Contact us today for a free roof inspection and experience the exceptional service we are known for.
Roof Repair Services Fairfield County, CT
No matter the size or scope of your roofing issue, our expert roofing team is ready to help. From small leaks to more extensive roof damage, we are equipped to assess the situation and design a repair plan to fix the issue by repairing or replacing any broken roofing components or removing and replacing roofing sections.
We understand that roofing problems can be stressful, and that's why we make it our priority to provide you with efficient and effective solutions that minimize disruption to your daily routine.
Our roofers each come equipped with the knowledge and experience necessary to identify even the most complex roofing issues, devise a smart solution, and get to work, ensuring that we leave no stone unturned in our repair process.
With our dedication to quality and attention to detail standard in all of our work, you can trust that your roof will be restored to its optimal condition.
Protect Your Fairfield County Home with
Timely Roof Repair
In Fairfield, CT, we see the best and the worst of the four seasons, and our roofs take the brunt of the assault. Be it the searing sun of the summer or the rapid freeze-thaw cycle of winter, our roofs are there,  creating a barrier between the elements and our loved ones. It sounds dramatic, but the job of the roof of a home cannot be understated.
Our team uses advanced techniques and the latest technology to provide efficient and effective roof repair solutions, including:
Roof maintenance
Roof Restoration
Emergency roof repair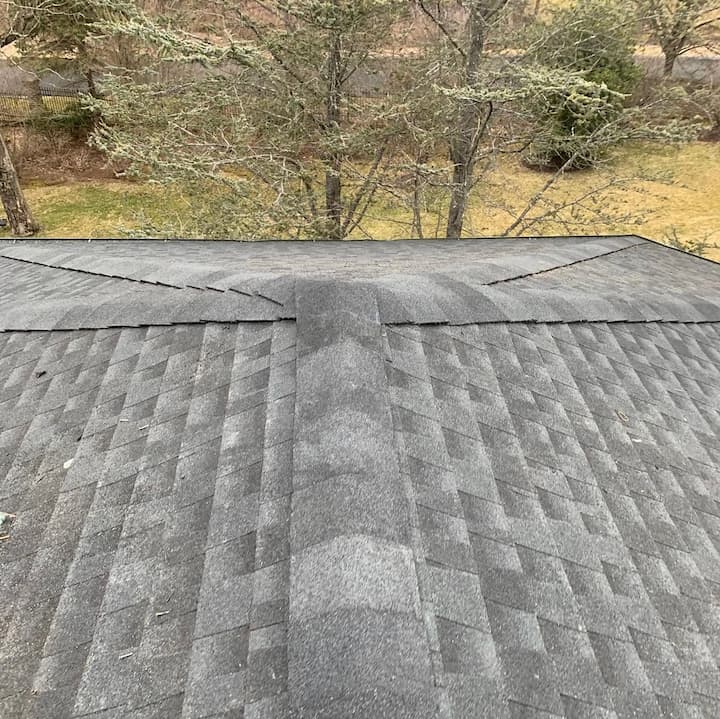 Signs Your Roof Needs to Be Repaired
Missing or damaged shingles.

Sagging or uneven roof.

Granules from shingles in the gutters.

Dark streaks on the roof or chimney.

Cracked or worn flashing.

Visible mold or moss growth.

Your roof's age is (over 20 years).

Signs of water damage on ceilings or walls.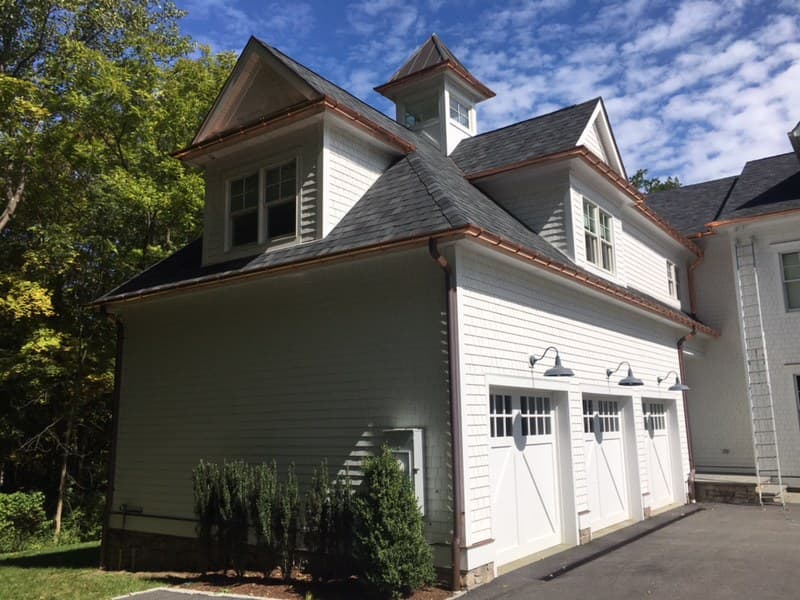 Roof Replacement Fairfield County, CT
When it comes time to replace your roof, choosing the right partner can be as daunting as settling on the color and style. Finding a roofer in Fairfield County is easy; it's a crowded field, but many 'local roofers' aren't local, and few have the health of your home at the center of their work.
At The Roofing Pros of Westchester, we take your trust as the highest compliment and will do everything we can to give you the best performing, looking, and functioning roof possible at the best price.
You can call on and trust our roof replacement team to guide you through the entire process. We specialize in various roofing types and styles popular in Fairfield County, including asphalt, synthetic shakes, standing seam metal roofs, copper awnings, and other newer synthetic roofing material options.
Roof Installation Fairfield County, CT
Our expert roofers will thoroughly assess the condition of your roof and determine whether repairs or replacements are necessary to ensure the safety and security of your home.
We understand that the reroofing process can be overwhelming, so we strive to simplify the process for you by providing clear and concise information at every step.
Our team of professionals will guide you through all your roofing material options, including shingles, shapes, and styles, and help you understand each component's role in the overall performance of your roof.
Education is key to making informed decisions, which is why we are committed to providing you with all the information you need to make the best choice for your home. Contact us today to schedule your free roof inspection and take the first step towards a safer and more secure home. is key to making informed decisions, which is why we are committed to providing you with all the information you need to make the best choice for your home. Contact us today to schedule your free roof inspection and take the first step towards a safer and more secure home.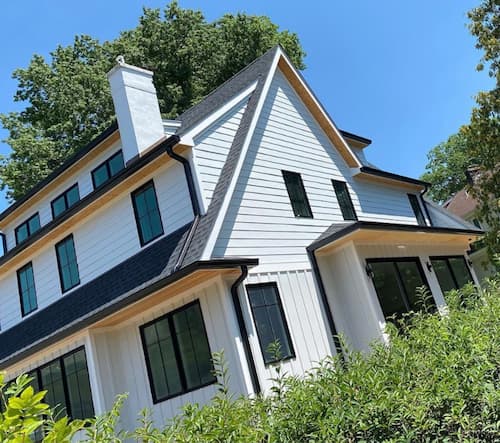 We hope to simplify the re-roofing process by educating you, our customers.
From knowing your roofing material options like shingles and metal roofing to understanding its parts.
Over the years, we have found most homeowners don't know much about their roofs, let alone how best to care for them.
Even with a newer roof, there are many advantages to performing roof care and roof maintenance. That starts with understanding how your roof works through its component structure, starting with the decking, underlayment, all the way up to its flashing, vents.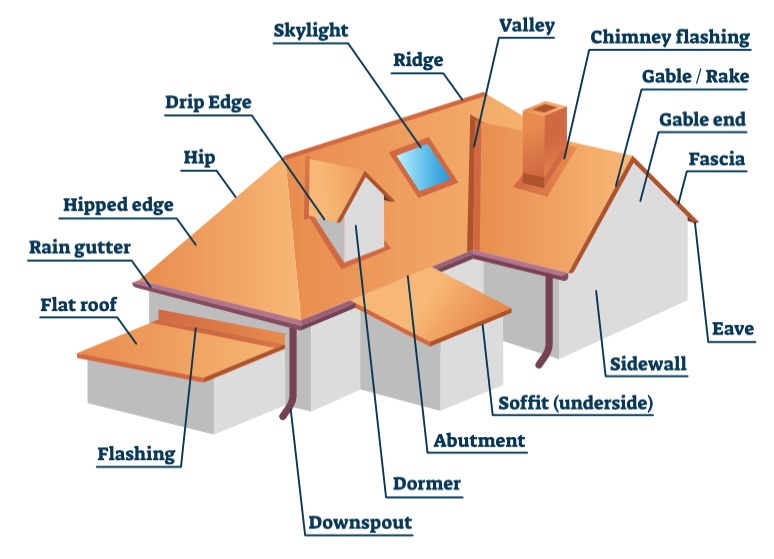 Roof System Parts & Terms:
Drip Edge: An L-shaped metal strip installed along roof edges 

to direct water 

off and away 

from

 the house.
Felt/Underlayment: A sheet 

of

 asphalt-saturated material that works as a protective layer for the roof deck.
Roof Deck: The plywood or other material that the roofing material is attached to.
Sheathing (or Roof Deck): The plywood or oriented strand board surface 

to

 which roofing materials are applied.
Flashing: Pieces 

of

 metal used 

to

 seal intersections (valleys 

and

 joints) or projections (vents, chimneys) 

on

 a roof.
Leak Barrier: A fiberglass device installed 

on

 a roof where it's most susceptible 

to

 leaks.
Ridge (or Ridge Cap): A layer 

of

 shingles is installed 

on

 the roof ridge 

to

 prevent leaks.
Ventilation: Vent openings that allow interior air 

to

 exit through the roof without letting moisture 

in.