Gutter Guards – For Fairfield County Homes
Make sure your gutters are free-flowing
ahead
of this winter!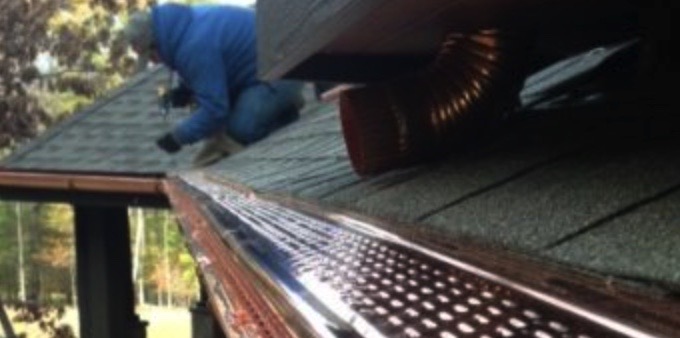 Gutter Guards are important to make sure your gutters are free-flowing ahead of winter. Here in Fairfield, we all know that it only takes one good snowstorm to wreak havoc on blocked gutters. Having a blocked gutter system causes major problems for your roof, home, and surrounding landscape, but luckily, there's a simple solution.
George's Seamless Gutters recommends using gutter guards as a precaution year-round, but especially in the months leading up to winter, where ice dams, leaks, and overflows can cause serious damage to your home.
Gutter guards are perfect for Fairfield County homes because of the mature trees that frame many area homes. These large trees are beautiful in fall, but once those leaves start to come down, your gutter can easily get clogged. Gutter guards keep debris of all kinds out of your gutter, allowing water to flow freely and protecting your roof, siding, and landscaping.
Gutter guards fit on top of your home's gutters–you won't even notice they're there, working hard through every type of weather. The ingenious design of gutter guards allows water to pass through the grates easily but keeps leaves, sticks and other debris out of your gutter. Gone are the days of clogged gutters and your twice-annual gutter cleaning!
We offer gutter guards to suit and match every color and material of seamless gutter we sell. Whether your gutters are copper, steel or standard aluminum, our gutter guards will blend seamlessly (which is our favorite style, after all!). Although you won't notice them, matching them to your gutter ensures they look nearly invisible from all angles.
Give us a call today to discuss adding gutter guards to your Fairfield home!