Monroe CT Roof Installation, Repair & Replacement
George's Seamless Gutters offers roofing repair and roof installation throughout Fairfield County, Connecticut, through our specialized roofing division, The Roofing Pros of Westchester, which provides comprehensive roofing services performed by our team of GAF Factory Trained and Certified Roofers.
Call on our Monroe roofing company for fast, affordable roofing services, including; Roof Repair, Metal Roofing, Chimney / Roof Flashing, and Skylight installation and repair services.
We have a simple formula for roofing installation excellence. We put the finest material in the hands of the most gifted roofers, and the outcome is nothing short of exceptional.
Contact us for a free no-obligation roof repair or partial metal roof installation estimate.
Our Monroe CT Roofing Services

Roof Repair Monroe CT
We have experience with a wide range of emergency roof repair situations. If you have a leaking or damaged roof, you've come to the right place! When it comes to roof damage, it is best to act quickly – delays can be costly. We have a local roofing team in the Fairfield County area – please don't hesitate to reach out.

Roof Installation Monroe CT
Our roofing company works with residents and commercial property owners throughout Fairfield County to design and install complete roofing systems. From popular asphalt shingles to accent standing seam metal roof sections and new composite roofing system materials, our roofing solutions work hand in hand with our gutter services; all of our work will keep your home safe and dry!

Skylight Installation & Repair Monroe CT
Our Fairfield County skylight installation service covers all phases of the project from design to finish, including roofing, flashing, framing, and interior finish. Are you interested in adding a skylight to your Fairfield County home or commercial building?

Chimney and Roof Flashing Monroe CT
We are roofing and chimney flashing experts capable of working with all the popular flashing materials and are proud to off Monroe, CT, homeowners full-service chimney repair services.
Roof Repair Monroe CT: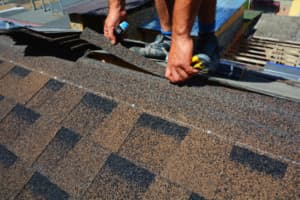 We are dedicated to our craft. We understand the unique roofing needs of property owners in Monroe, CT, and offer roofing services other roofing companies in our area don't.
We proudly offer full-scope roofing services, including roof installations and repairs:
Monroe CT Roofing Services:
Free Roof Inspections
And a 100% Satisfaction Guarantee on all our work and roof service!
George's Seamless Gutters has a reputation, and we are proud of it!
In everything we do, our mission remains consistent.
Provide the finest roofing services anywhere.
Educate customers on how and why our work is important for the longevity of their homes.
Always work to raise the bar of customer service and satisfaction in the roofing and gutter industry.
---
Fairfield County friends and neighbors, we are committed to our community; never hesitate to call on us for fast, affordable, and honest roof installation or maintenance services.
Do you have a roof leak?
A roof that starts to leak during a heavy rainstorm can quickly become a major problem. If your roof leaks, contact us right away and take these three steps to minimize the water damage as much as possible:
Don't panic — we or another local roofing company can help!
Step 1: Contain the water.
Step 2: Remove the water.
Step 3: Call a local roofing company…then your insurance agent…
My roofing team provides comprehensive roof repair services in addition to emergency roof repair services. We are proud to offer fast, affordable, comprehensive roof repair and re-roofing services for homeowners throughout Fairfield County.
We have experience with a wide range of emergency roof repair situations. Never hesitate to call!
Monroe is a beautiful town full of lovely homes. It is right next to the stunning Lake Zoar, which leads into the Housatonic River, where there's plenty of fishing to be done. This nature-esque town also offers camping and wonderful views within our Webb Mountain Park. Monroe is the ideal place to explore!