Fairfield County Gutter Replacement: Consider Copper Gutters

Copper Gutter Replacement Fairfield – As a homeowner in Fairfield County, CT, you understand the importance of maintaining and improving your home. With so many options, deciding which improvements to prioritize can be overwhelming. Careful consideration is key, as your decisions will affect your home's value and functionality.
By planning and focusing on the improvements that matter most, you can ensure that your home remains a comfortable and valuable asset for years to come.
Rain Gutter Repair, Replacement, and Installation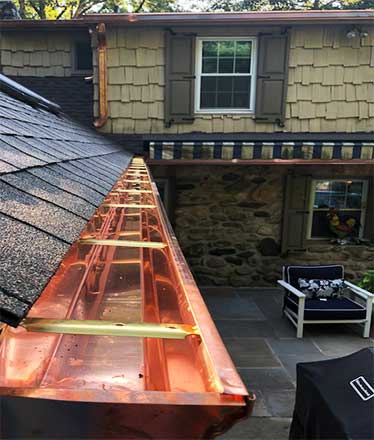 In Fairfield County, CT, rain gutters are essential to your home's defense against water damage. They protect your siding, foundation, basement, and other areas from the dangers of mismanaged water. At our local gutter company, we understand that every home has unique needs, depending on factors such as roof type, climate, and soil. That's why we offer a range of gutter options, including popular and timeless copper gutters and downspouts, that work seamlessly with home drains to ensure that your home is properly protected.
When it comes to selecting gutters, there are many styles to choose from, and we can help you choose the right one to match your home's structure, design, and personal preferences. Our gutter systems are designed to blend form and function, providing optimal functionality and adding value and character to your home.
While aluminum gutters are the most common and affordable option, we offer a wide range of gutter colors and materials to choose from, including color aluminum gutters, black gutters, Galvanized Steel Gutters, Cooper Gutters, and Downspouts, and Galvalume Gutters, that mimic the look of more expensive metals and even Lead-coated Copper Gutters. Our team will work with you to select the right gutters that protect your home and enhance its curb appeal. We will design and install the best gutter system for your Fairfield County home.
Why We Believe Copper Gutters are the Best Gutter Systems.
Systems made of a strong, visually appealing natural metal such as copper is worth considering on several levels.
Copper is very lightweight, making it easy to transport and install. It is also an excellent environmental option, as it likely includes recycled copper.
Copper gutters can last decades longer than some metals, such as aluminum, potentially even outlasting the time you choose to live there. Add to that little to no maintenance, standing up very nicely to rust, destructive weather such as hail, and extreme temperatures.
As for its aesthetic appeal, there is no denying that copper is a rich, striking color that will catch your neighbor's attention and even add value to your neighborhood. Not to mention adding resale value when the time is right.
We are often asked, Do copper gutters increase home value? And the answer is a resounding Yes. Copper Gutters increase a home's resale value, curb appeal, and presence. 
Copper Gutters Increase Home Value and Decrease Home Maintenance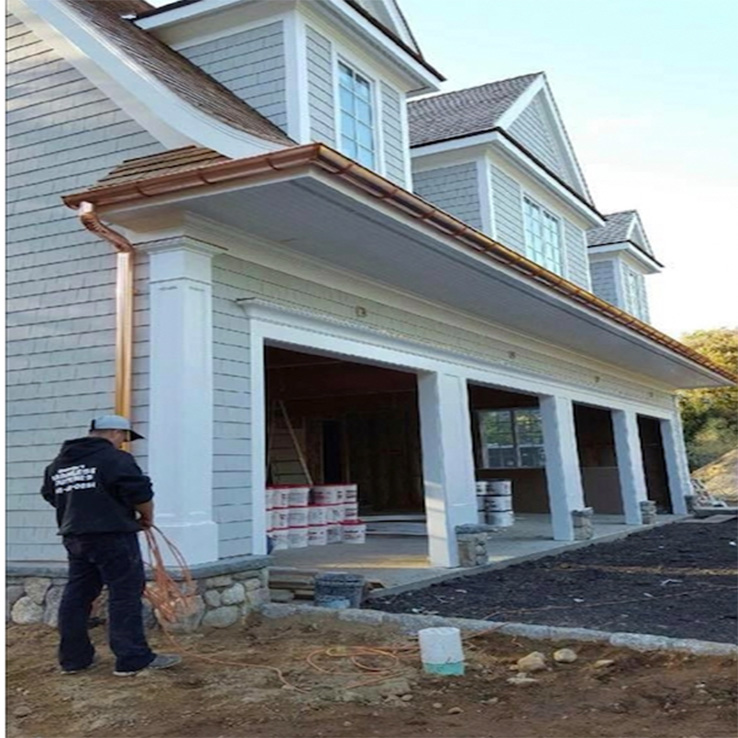 Copper gutters reduce home care and maintenance due to their durability, low maintenance requirements, and self-protecting properties, making them an excellent investment for homeowners in Fairfield County, CT.
When exposed to air, copper naturally forms a layer of patina that protects it from corrosion and weather damage. This layer of patina can act as a protective seal, which helps to keep the gutter system functioning properly and extends its lifespan.
But, it should be noted to retain the bright, shiny orange color, copper gutters need to be protected with a sealant before installation. Without a sealant, copper gutter Replacement Fairfield will naturally develop a patina over time, which changes their appearance to a darker, more rustic color. So, to maintain the bright orange color, it is necessary to apply a sealant to the copper gutters before installation. Our gutter company dose not recommend this; we prefer to let the gutters age naturally; this is where they really shine; in our opinion, that was a pun.
When we are asked, 'Should I let my copper gutters age naturally?' We say YES!
Without sealant, your copper gutters will very gradually develop a lovely patina color due to oxidation. We believe most homeowners should strongly consider letting this natural aging process happen as it adds another dimension to your copper gutters' unique appearance.
Whether or not to let copper gutters age naturally is a matter of personal preference. While the initial bright orange color of copper gutters is undoubtedly attractive, some homeowners prefer the unique and rustic appearance that develops over time as the copper ages and forms a patina.
As copper gutters are exposed to the elements, they will naturally develop a patina over time. This patina can range in color from green to brown, depending on the conditions to which the copper is exposed. Some homeowners find this aged patina a desirable feature, as it gives the gutters a unique and distinctive appearance that can complement the architecture and style of their home.
This is a lot of information, we understand.
As with any home improvement, there is much to consider when replacing your gutters. Together we can review the design and structure of your home, your budget, and your personal preferences to find the right gutter system for your property.
We offer free consultations, and more often than not; we can have one of our trusted gutters professionals out to your home to start the
Copper Gutter replacement, Fairfield or installation process the same day you call.
We look forward to hearing from you; as always, at George's Seamless Gutters, estimates and honest expert advice are always free.