Trumbull, Connecticut Gutter Repair Company
Gutter Repair Trumbull CT – Our Gutter Company provides Trumbull area home and business owners professional, reliable gutter repair, cleaning, and installation services. Our gutter repair offering is straightforward and cost-effective.
Were your gutters damaged during a recent storm, or have you seen your gutters leaking during heavy rains? Do you see sections of your gutters separating from the house? If you answered yes to any of these questions, it's time to contact my Trumbull gutter company.
No other Fairfield County gutter company is better equipped to help you than we are.  
Our gutters take a beating in Trumbull. Our gutters have to stand up to our icy winters and their relentless freeze-thaw cycles, then we have the trees to contend with; ur gutters stay busy. Over time, the gutters on your home will need repair, a d my gutter company has the tools and expertise to get the job done quickly and affordably.
Whether you need your roof repaired, your gutters replaced or your roofing and gutter systems partially updated or repaired — we can help.
We offer full spectrum gutter services and we also help with related drainage systems and roofing services. Since 1999, our team has set the standard for gutter service excellence, and we invite you to call on the team at George's Seamless Gutters for all of your roofing and gutter needs.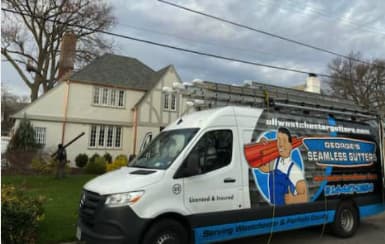 Request a quote
We offer the best gutter cleaning service available at great prices!
Services Offered by our gutter installation company in Trumbull, CT
We provide a wide range of gutter and roofing services for customers here in Trumbull and throughout Fairfield County, CT.
Our most popular gutter services include:
Our gutter repair company is proud to serve as the resident Trumbull CT gutter repair experts. Gutter repair and gutter maintenance are essential–there's no question about that. Having strong, healthy, free-flowing gutters is critical for the health of your roof, your home's foundation, and your land. 
Trumbull CT gutter repair" width="227″ height="222″ />
In Trumbull, CT, and throughout Fairfield County, our gutters have to withstand seasonal weather changes, making regular gutter repair and maintenance a seasonal need for many home and property owners.
As with most things – repairs are best made right when a breakdown occurs. Failing to correct a gutter maintenance problem can quickly escalate. Mismanaged water can damage your home or building, and no one wants that.
As a term or practice, the Gutter repair is an oxymoron. Gutters and their related components do not lend themselves to repair, not how you're likely thinking. 
Gutter repair, more times than not, is a gutter replacement. It's not replacing the whole, seamless gutter system, though—just the part of the rain gutter system that is broken or defective. It's simple–we replace the broken portion of your gutter that needs repair. So when my team goes out for a gutter repair, we are also going out to help educate our homeowners about their gutter system and which part or section needs a gutter repair or replacement.

Trumbull CT Gutter Repair & Replacement Company
Gutter repairs are not a big deal, and we keep it as simple as possible! Gutter repairs are also not typically costly. We are not like other gutter companies.
At George's Seamless Gutters, we treat every customer like family–I am not just saying that! I mean it wholeheartedly! My team and I take our time to assess your home, your gutter system, your roof, and your water management needs, and then we only suggest the roof repair, gutter repair, or gutter replacement that is needed. We share our perspective on what needs to be done and why to help you, the homeowner, makes an informed choice.
Gutter hanging off of home/gapping at secure point
The downspout is disconnected, loose or leaking from the gutter system
Water in basement/home
Leaking or dripping gutter seams
Gutters overflowing
Out of pitch gutters
Spike and ferrules pulling away from the gutter system–look for the nail head to be coming out
Mold in areas before the gutter
Rotting deck boards, window sills or garage doors
Erosion or lines in landscaping
Cracking of sidewalks/driveways/stairs near home
Paint flaking prematurely near the foundation of the home
Keep an eye on your gutter system. Gutters are secured to your home with spikes and ferrules. Over time, the area can warp around the spike, which may cause it to loosen. Once a spike comes loose, your gutter is in danger of falling and breaking.