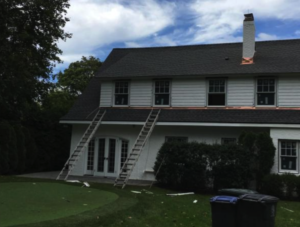 George's Seamless Gutters is proud to announce we now offer comprehensive roofing services throughout Fairfield County, Connecticut and right here in
Greenwich

.

The Roofing Pros of Westchester, a division of George's Seamless Gutters, now provides roof installation and roof repair services in Greenwich. Look to our roofing company for fast, affordable, roofing services including; Roof Installation, Roof Repair, Chimney Flashing, and Skylight design and installation and repair services. 
All of us here at George's Seamless Gutters are proud to offer our friends and neighbors comprehensive roofing services. 
Our

Greenwich CT

Roofing Services 

During our recent expansion, we have hired, trained, and welcomed many Fairfield County roofers aboard our team. We have a simple formula for roofing excellence. We put the finest material in the hands of the most gifted roofers and the outcome is nothing short of exceptional. 

Contact the Roofing Pro's of Westchester today, for a free no-obligation roof installation or repair estimate.
Our roofing services in Greenwich:
Roof Repair & Replacement
Emergency Roof Repair
Metal Roofing – Standing Seam Roofs
Chimney Flashing Repair
Skylight Repair & Installation
Gutter Repair
Free Roof Inspections
And a 100% Satisfaction Guarantee on all our work and roof service!
We offer free complimentary estimates for all of our roofing and roof repair services in and around Greenwich, CT – schedule yours today!
Greenwich CT Roofing Repair
We have experience with a wide range of emergency roof repair situations. If you have a leaking or damaged roof, you've come to the right place! When it comes to roof damage, it is best to act quickly – delays can be costly. We have a local roofing team in the Fairfield County area – please don't hesitate to reach out.

Greenwich Roofing CT Roof Installation
Our roofing company works with residents and commercial property owners throughout Fairfield County to design and install the best roofing system for their specific home or building. From popular asphalt shingles to standing seam metal roofs and on to new composite roofing system materials, our roofing company has a solution for nearly every home, building, barn, or garage.
Greenwich Roofing CT Skylight Installation & Repair
Our Fairfield County skylight installation service covers all phases of the project from design to finish, including roofing, flashing, framing, and interior finish. Are you interested in adding a skylight to your Fairfield County home or commercial building?
Greenwich Roofing CT Metal Roofing – Standing Seam Roofs
Metal Roofing looks excellent and is finally catching on in popularity here in Fairfield. Adding a metal roof with a standing seam to your home is a surefire way to make it a curb-side stand out. Available in metal galvanized metal and copper. Looking to add a metal roofing accent to part of your roof like an awning or window awning –or porch… let's talk!
Greenwich Roofing CT Chimney Flashing Repair
We are roofing and chimney flashing experts capable of working with all the popular flashing materials and proud to off Fairfield CT homeowners full-service chimney repair services.
Greenwich Roofing CT Roof Installation & Roof Repair:
We are dedicated to our craft. We understand the unique roofing needs of property owners in Fairfield County and offer roofing services other roofing companies in our area don't.
We are proud to serve as our local Fairfield County areas go-to-roof installation and roof repair expert. No company in our area knows more about what roofs do than our team and that is to protect your home from the four seasons and the dangers presented by mismanaged water.
Our Preferred Roofing Systems
GAF ROOFING
GAF roofing products allow homeowners to stay with their home's current or historic architectural style while benefiting from the most modern asphalt shingle on the market. As beautiful as it is budget-friendly – GAF Roofing is one of the most popular roofing products on the market.
EcoStar ROOFING
EcoStar roofing is manufactured with recycled rubber and plastics; the EcoStar roofing product is highly flexible, sustainable and environmentally friendly. EcoStar is the leader in synthetic slate and shake roofing. We invite you to learn more about the EcoStar Roofing Systems we install here in Fairfield.
DaVinci® Roofscapes
A DaVinci Composite Roof provides homeowner's the look of natural roofing without the ongoing maintenance, repairs, and replacement that comes with it. DaVinci Roofscapes manufacture superior polymer roofing systems. Learn more about our services including DaVinci Roofscapes installation in Fairfield County!
Contact the Roofing Pro's of Westchester today, for a free no-obligation roof installation or repair estimate.
George's Seamless Gutters has a reputation and we are proud of it!
In everything, we do our mission remains consistent.
Provide the finest roofing services anywhere.

Educate customers on how and why our work is important for the longevity of their home.

Always work to raise the bar of customer service and satisfaction in the roofing and gutter industry.
---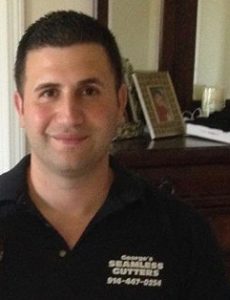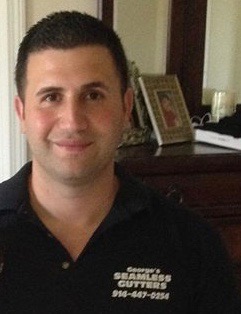 Fairfield County friends and neighbors, we are committed to our community, never hesitate to call on us for fast, affordable and honest roof installation or maintenance services.
First, do you have a roof leak? 
A roof that starts to leak during a heavy rainstorm can quickly turn into a major problem. If your roof has a leak, contact us right away and take these three steps to minimize the water damage as much as possible:
Don't panic — we or another local roofing company can help!
Step 1: Contain the water.
Step 2: Remove the water.
Step 3: Call a local roofing company…then your insurance agent…
My roofing team provides comprehensive roof repair services in addition to emergency roof repair services. We are proud to offer fast, affordable, comprehensive roof repair and re-roofing services for homeowners throughout Fairfield County.
We have experience with a wide range of emergency roof repair situations never hesitate to call!
Greenwich is a lovely place to call home. From the charming and picturesque downtown to the waterfront and wooded neighborhoods that surround the town, Greenwich has a lot to offer!  From local hiking opportunities like the trails at the Greenwich Audubon Center to local area dog walking favorite the Mianus River Park not to mention Greenwich CT  landmarks and world-class restaurants, Greenwich has something for everyone.