Copper Gutters on a White House: Deliver Awesome Curb Appeal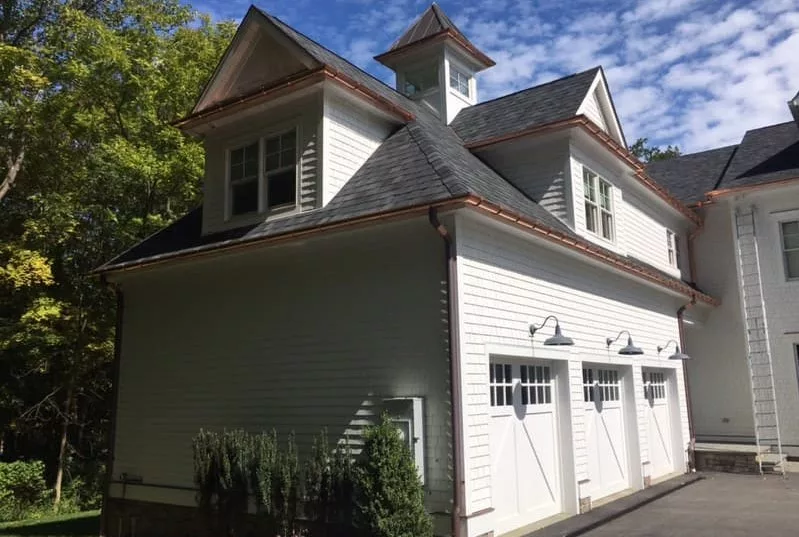 Copper Gutter and Downspout Installation in Fairfield County
Before taking into account the charming visual appeal of copper gutters on a white house, it's important to recognize that copper gutters are an excellent investment for your home. They are not only aesthetically pleasing but also durable and long-lasting, making them a practical and wise choice for any residence.
Though not inexpensive, copper gutters offer many qualities that will serve you and your home well for years to come (up-to-100). Copper gutters offer a range of benefits for homeowners. Not only are they durable and long-lasting, but they are also self-sealing and leak-proof. In addition, copper is a construction material that is highly resistant to rust and can be custom-crafted to fit the unique design of your home.
However, it's essential to note that all gutter system components must be made of copper to ensure its strength and longevity. Mixing copper with other metals such as aluminum, steel, or iron can lead to corrosion, particularly for the other metals. This is because copper is more noble or resistant to corrosion than most other metals. When in contact with a less noble metal, the other metal will corrode more rapidly, while the copper remains mostly unaffected. Therefore, using a mixed metal gutter system is not recommended and could compromise the integrity and durability of the system over time.
Are copper gutters worth it?


Copper Gutters Fairfield CT: Pros and Cons

Copper gutters are a great choice for homeowners looking for an attractive and durable gutter system that can withstand harsh weather conditions. However, like anything, copper gutters have their pros and cons, and homeowners should consider these factors before making a final decision.
Why would you use copper gutters?
Pros:
1. Durability: Copper gutters are more durable than aluminum gutters and can last a lifetime. Properly maintained copper gutter systems can last up to 80 to 100 years, making it an excellent investment for homeowners.
2. Minimal expansion and retraction: Copper is less likely to expand and contract with temperature changes, which means that copper gutters will stay in place and maintain their shape over time.
3. Increased home value: Yes, copper gutters increase home value. Copper gutters add to the overall aesthetic of a home and increase its value. Copper has a unique look that can set a home apart from others in the neighborhood.
Copper gutters are a popular choice for homeowners who want to bring a sense of classic elegance to their homes. This is especially true for white homes, where the contrast between the bright white color and the warm, rich color of copper gutters can create a timeless and beautiful combination.
Copper gutters can enhance the overall aesthetic of traditional white houses with different types of siding, such as shiplap, cedar shakes, board, and batten siding, or even modern alternatives like James Hardie Fiber Cement siding. The addition of copper gutters can give these homes a real boost in curb appeal and add value to the property.
In summary, copper gutters are durable and long-lasting. They can significantly enhance the visual appeal of white homes with various types of siding, providing a classic, elegant look that will stand the test of time.
What is the downside to copper gutters?
Cons:
1. Cost: Copper is one of the most expensive materials for gutters, which can make it cost-prohibitive for some homeowners. The price of copper fluctuates with market conditions, so it is important to be aware of current pricing when considering this option.
2. Difficulty finding experienced installers: Copper gutters require a level of expertise that not all gutter installers have. Finding an experienced installer who works with copper gutters can be challenging.
Dedicate time to selecting a contractor for your copper gutter installation project. This is not a job for any gutter company; you want to find a contractor specializing in copper gutter installation and having a dedicated team (never hire a company who hires work out). A gutter company that utilizes sub-contractors should be taken off your consideration list.
3. The longer installation process, heavier product: Because copper gutters are more substantial than other gutter systems, they can take longer to install. Additionally, the product's weight may require additional reinforcement to the roofline, which can add to the installation time and cost.
Again because of these added challenges, an experienced gutter company must install your copper gutter system; it is worth taking the time to research a gutter company with the right experience.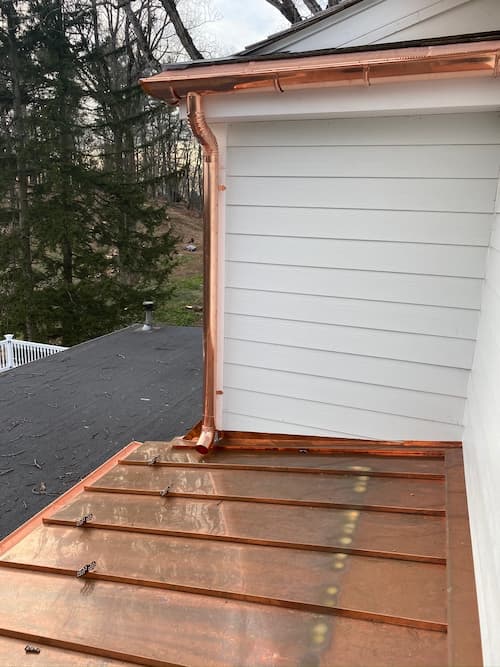 Which is Our Favorite Gutter Material?
No Shocker– it's Copper.
While our Fairfield County-based gutter company offers a wide variety of gutter material options, our favorite, without question, is copper gutters. So, why do we love them? Well, they look great and function even better! Add in their undeniable curb appeal and unique timelessness that is wonderfully underscored when installed on white homes. You, too, will quickly see why this is our team's unanimous pick.
White Houses with Copper Gutters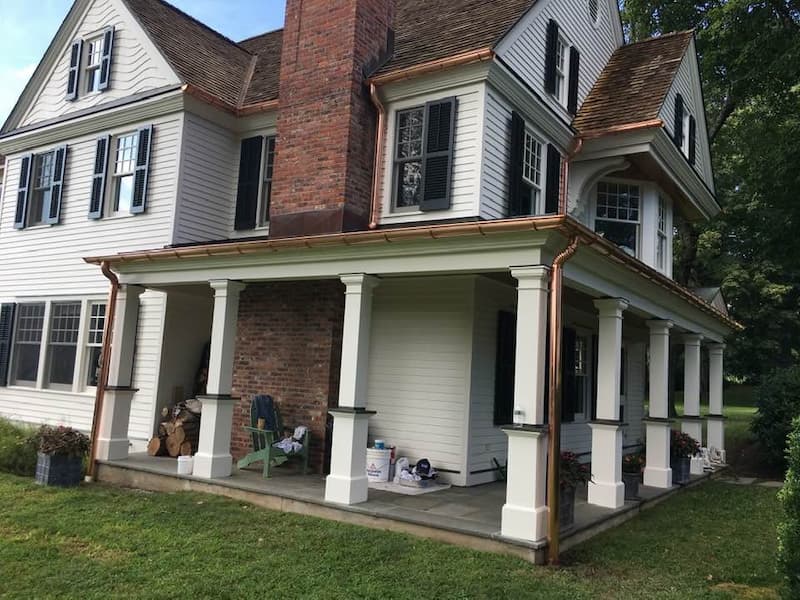 White houses provide an open canvas for copper gutters and let the copper color play a more prominent role in the home's overall aesthetic. The contrast between the bright, clean look of a white house and the warm, earthy tones of copper gutters creates an eye-catching and visually appealing combination. Against the white color of the home, copper gutters can stand out naturally as they are not in competition with another color for the eyes gaze.
Additionally, copper gutters catch the light differently throughout the day; a white house, too, catches the light, but it bounces like a photographer's white card, illuminating the dark shadowed areas and filling them with warmth.

When accented by copper gutters, these moments of light and shadow are made even more dramatic, and best of all, your ability to enjoy them as a homeowner is a lasting feast for the eyes—interested in adding copper gutters to your home?
Don't hesitate to call us; window shoppers are always welcome!
Frequently Asked Questions About Copper Gutters & Downspouts:
Do copper gutters increase home value?
This is a question we are asked a lot. Do copper gutters increase home value? The short answer is, yes. Copper gutters do increase a home's value for both practical and perceived reasons.
Not only will copper gutters make your home look more visually appealing, but the added durability that comes with copper can also increase the value of your property.
Which Home Styles Look Best with Copper Gutters?
Copper gutters complement a variety of home styles and some more than others; here in Fairfield, we add copper gutters frequently to the following home styles and see the most dramatic effects (and return on investment for the homeowner come a time of sale)
Traditional homes: Copper gutters enhance the classic look of a traditional home, including Classic Colonial homes, detailed Victorian homes, and timeless Tudor-style homes. The warm, rich color of copper adds elegance to the home's exterior that harkens back to a time gone by. A traditional house with classic gutters is a truly timeless beauty to behold.
Rustic homes: Log cabins, timber frames, or other rustic-style homes provide a perfect canvas for copper gutters which add an eye-catching finishing touch. The natural patina that develops over time blends in well with the home's rustic features.
Contemporary homes: Copper gutters can also look stunning on modern houses with clean lines and simple, minimalist designs. The contrast between the sleek, modern look of the home and the warm color of copper can create an eye-catching aesthetic.
How long do copper gutters take to patina?
First, it should be noted that patina is a natural process and does not affect the functionality or durability of the copper gutters.
Homeowners always ask us how long till our copper gutters turn green or patina. Unfortunately, there is no one-size fits all answer. Copper gutters typically take several years to develop a patina.
But, the timeline can vary significantly from house to house; even two houses sitting right next two each other may see a very different course of evolution when it comes to gutter patina development.
What affects the rate to at which Copper Gutters turn Green?
The process of gutters developing a natural patina depends on the climate and the specific environment where the gutters are installed.
High humidity or heavy rainfall makes copper gutters patina more quickly. Drier or less humid climates take longer for the patina to develop.
Generally, it can take 5 to 20 years for copper gutters to fully develop a patina, a natural greenish-brown color that forms on the surface of the copper due to oxidation.
Faux copper gutters
Faux copper gutters are an option as well, we install dark bronze enable coated color aluminum gutters regularly in both K-style and Half-round profiles, and for some homes and homeowners, this is the very best option available to them if they have their hearts set on copper but are limited by thier budget.
As with all of our services, we provide free estimates and will happily include numbers for various scenarios. If you are curious about how much it would cost to add copper gutters and downspouts to your home and live in Fairfield County – contact us, we will make the estimate process quick and painless.
Are Copper Gutters High Maintenance?
No, if installed correctly and with copper gutter guards, copper gutters should be among the lowest maintenance gutter material options out there.
How Long do Copper Gutters Typically Last?