Connecticut Copper Gutter Repair
Copper Gutter Repair Fairfield CT – Our Connecticut Copper Gutter Company provides Fairfield County home and business owners with expert copper gutter design, installation and repair services. If your copper gutters are damaged, leak during heavy rains, or if you see sections of your copper gutters separating from the house, the time to contact my team of copper gutter experts is now.
We offer full spectrum copper gutter services, including repair, copper gutter installation, specialty gutters including oversized gutters, and radius gutters as well as gutter guards (copper gutter guards)  gutter cleaning, and gutter maintenance. We also help with related drainage systems and roofing services.
Since 1999, our team has set the standard for gutter service excellence here in Fairfield CT,  we invite you to call on the team at George's Seamless Gutter for all of your copper gutter needs.
Request a quote
We offer the best gutter cleaning service available at great prices!
Fairfield CT Copper Gutter Repair
My team and I work on wide array of copper gutter services and solutions throughout Fairfield County, CT.
Some of our most popular services include:
In Fairfield County, our home's gutters have to withstand seasonal weather changes making the need for regular gutter inspections, and maintenance a must for many home and property owners.
Failing to correct a necessary gutter repair or maintenance problem can quickly result in water damage to your home or building, and no one wants that.
Copper Gutter Repair & Replacement
Copper gutter repairs are not a big deal, and we do all we can to keep it as simple as possible! We are not like other gutter companies. At George's Seamless Gutters, we treat every customer like family–I am not just saying that! I mean it wholeheartedly! My team and I take our time, assess your home, your gutter system, your roof, and your water management needs, and then we only suggest the roof repair, gutter repair, or gutter replacement that is needed.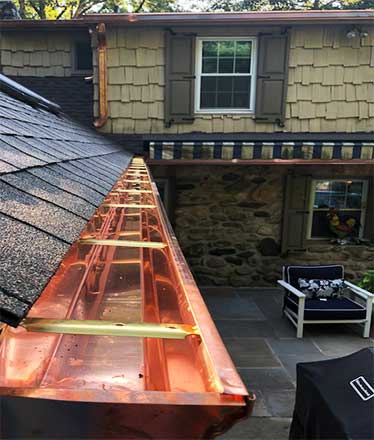 Gutter hanging off of home/gapping at secure point
The downspout is disconnected, loose or leaking from the gutter system
Water in basement/home
Leaking or dripping gutter seams
Gutters overflowing
Out of pitch gutters
Spike and ferrules pulling away from the gutter system–look for the nail head to be coming out
Mold in areas before the gutter
Rotting deck boards, window sills or garage doors
Erosion or lines in landscaping
Cracking of sidewalks/driveways/stairs near home
Paint flaking prematurely near the foundation of the home
Some of the zip codes we service in Danbury CT: